Bryan and Katie Torwalt: Out of the Darkness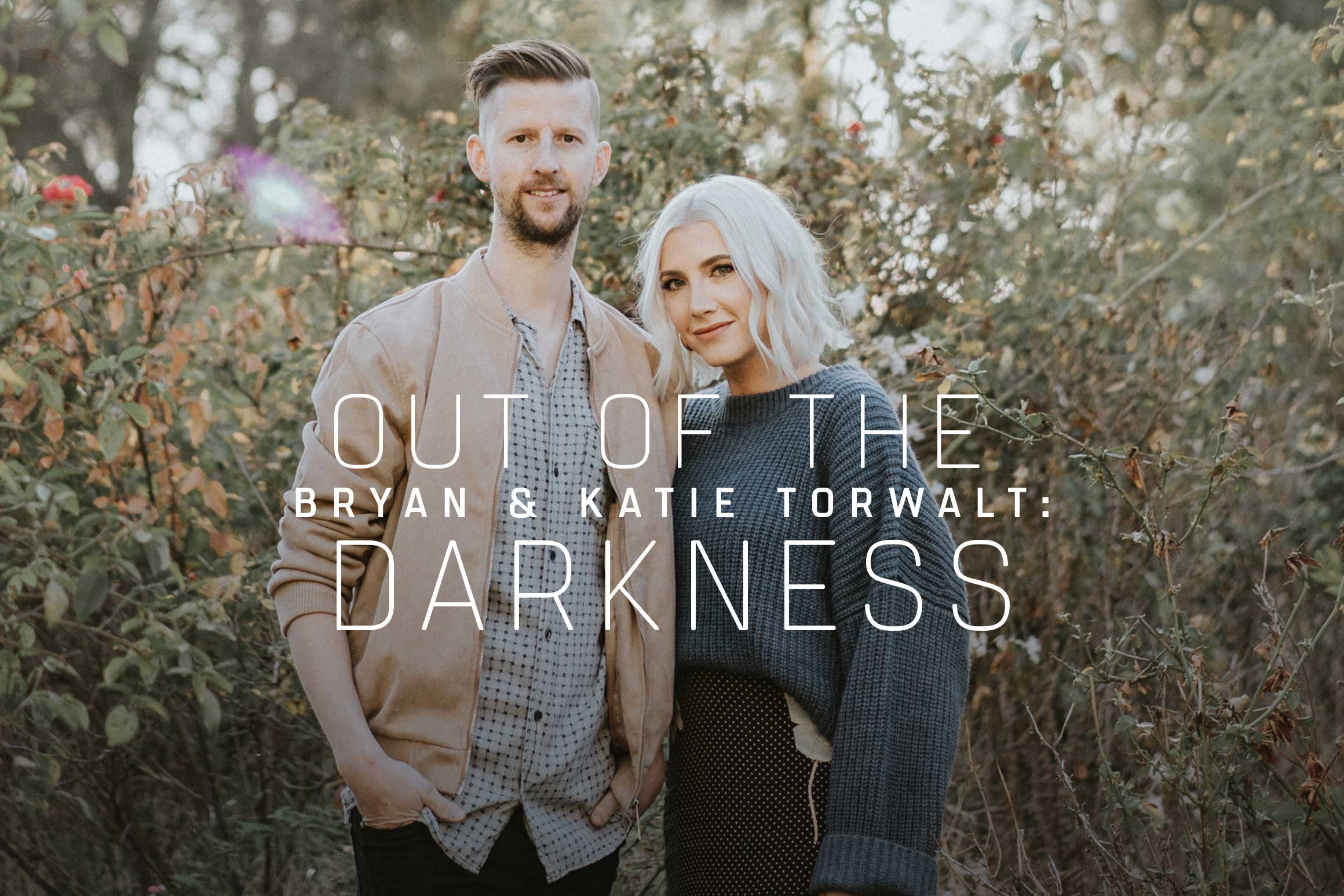 For the first time in their 10 years as worship artists, pastors and members of Jesus Culture, Bryan and Katie Torwalt didn't have the right words. A challenging season of life had left them feeling shaken and holding onto hope in the middle of uncharted waters. They'd been giving other people prayers and songs for years, but in those moments, they couldn't even hear themselves.
Praise Before My Breakthrough, Bryan and Katie's new five-song EP, is about a challenging season of life had left them feeling shaken, and holding on to hope in the middle of uncharted waters It's uncommon, and it's urgent.
"We need these songs," Bryan says. "As a creative, you have times in your life when stuff just comes out of you. Then, there are seasons when it's a discipline and you don't feel like you have anything to say. This project only has five songs because we had a hard time articulating what we were going through. These were the songs we sang over our life. These are the songs we are declaring for ourselves."
In 2018, Katie dealt with postpartum depression after the birth of the couple's now-8-month-old daughter, Indigo. Katie had struggled with anxiety and fear before, but after Indigo's arrival, that anxiety reached a breaking point. Katie says she was grabbing at words and prayers from other people, but when she turned to the voice inside herself, she didn't have anything to give. The words she did hear didn't feel true, either, because they weren't matching her circumstances.
That's the central tension of living as a Christian in a broken world— God's promise of a redeemed creation doesn't align with what you see around you—and that conflict can muddle how, despite the tension, God's truth still exists.
Years before Indigo's birth, Katie remembers encountering some intense vocal problems that coincided with some major hurdles in her songwriting process. She couldn't sing and she couldn't write. Her whole identity was shaken. She couldn't see the way forward and she no idea who she was supposed to be. What her voice never fully came back?
In the midst of that confusion, Katie and Bryan said they returned to God's Word and remembered His plan. That process became the foundation of "Prophesy Your Promise" on Breakthrough. The chorus reads: "When I only see in part / I will prophesy Your promise / I believe You, God, because You finish what You start. / I will trust You in the process."
Worship reminds me of the truth when lies are creeping in.
"During that season, something we reminded each other of was the people who had encouraged us with the words of God," Katie says. "We wrote those words down and stewarded them and spoke them back over ourselves when we needed them. And it's not always easy. It's the hardest in the middle [of that fight], but we wanted to be intentional about it in that song.
"Worship reminds me of the truth when lies are creeping in," she continues. "It sets the record straight of who God is and what He has planned for us. Sometimes it feels like there's not a plan and there is no hope, but that's not true, and that's when you have to choose to look for the words that come into alignment with what God has to say."
When your identity is shaken, the assurance it provides is replaced by loneliness. How can you find connection with another person when you don't know what's true about yourself? Bryan and Katie turned back to that sense of truth in God's Word, even if the evidence wasn't appearing in front of them.
"One of the big lies we believe in difficult seasons of life is that we're the only ones experiencing that, and we're alone, and no one can understand, not even God. That is something we want this album to remind people of: God is with us. The Holy Spirit is with us. We're not alone in anything," Katie says.
And that's why Praise Before My Breakthrough is a capsule of their hardship instead of a retrospective.
Bryan remembers a moment about a year ago when he and Katie were onstage leading worship at their church.Katie was still struggling a season of anxiety and fear. They were performing the song "Defender," a celebratory praise anthem that goes: "You go before I know / That You've gone to win my war / Your love becomes my greatest defense / It leads me from the dry wilderness."
Katie spun away from the lyrics and entered a spontaneous moment of worship, Bryan recalls. Her conflict, pain and confusion surged forward and Bryan felt the room shift away from celebration.
He remembers he started crying onstage, and he's crying even as he tells the story. The impromptu words Katie sang became the title song of their EP. "Praise Before My Breakthrough" reads in sharp contrast to "Defender."
"I know the tension of the now / I don't always understand / I don't always get to see everything / When I'm holding up my hands."
"There's these moments that just feel like the truth," Bryan says. "I could see Katie fighting in that moment, fighting through some of the lies she had been believing, and choosing truth."
For his part, Bryan was praying for continued stability and guidance in almost all aspects of his life. He remembers his prayers to God in that were marked by "I need" phrases.
"I think it's good to tell God what you need," he says. "But when your relationship with the Lord is fully based on what you can get, that doesn't work. There's no depth. For me, it's been a long journey—and it still is a journey—but that depth has changed to come from the ability to just be with God. There's something about having your identity grounded in God's love that assures you He's going to take care of your needs no matter what. You have less worry and less anxiety, so you have less requests."
Another song on Breakthrough came out of that tension: "Be With Me." Considering its appearance on the album and the context of its conception, it comes across as uncommonly humble and submissive: "Be with me / I just want You to be with me / I don't need You to do a thing / Your love is enough."
It almost doesn't make sense given the longing of the other songs.
"Some people ask us if we're contradicting ourselves between 'Prophesy Your Promise' and 'Breakthrough,' then 'Be With Me,'" Katie says. "But that's just a picture of our journey. God wants to move and heal and perform miracles. He's still going to come through, but ultimately it's about just being in the room with Him. Amid all the things we're waiting to see fulfilled, we only have a small picture of eternity. There's more we don't understand yet, and that's only fulfilled in the presence of God."
What makes Praise Before My Breakthrough so forceful, even uncomfortable, is how immediate it is. This isn't a "remember when" worship album, and that made it that much harder to write.
Bryan and Katie say it's tempting as worship leaders to share struggles only after you've gone through them. It's easier to engage with difficulty when you can see the before and after, and it's easier to share that difficulty with others after the fact because you feel you can maintain your authority if people know you've come out of that hardship better for the trial. But that's not this album.
Bryan and Katie are still inside this time. They've seen victory, but only some. They have hope, but in things they haven't seen yet. They maintain, though, they've seen movement and progress, both in God and each other. They have trust.
"If I'm being honest, I've seen God miraculously change some circumstances and feelings and my health overall, but I'm still waiting for some breakthrough," Katie says. "What this project has shown me is that I feel more comfortable sharing after I know God has come through all the way. As Christians in ministry, there's a little lie that says you have to have something figured out to have authority over it or you'll be dragging people through your mess. But God says you do have authority and victory over it. He's done it already."
"We've seen little breakthroughs where God has set things in motion," Bryan adds. "It's been amazing to zero in on those things and be thankful in the moment. Your perspective changes. You feel like you're moving somewhere."
The cover of Breakthrough is a dove. It signifies the dove that returned to Noah with the olive branch indicating the flood across the Earth was beginning to recede. The olive branch was a sign, but it also was assurance the Earth would heal and be restored. That's the assurance behind Breakthrough, too.
"The bird just had a tiny little twig," Katie says. "But it signified the hope to come. That was the promise for the future. Maybe you haven't seen the island pop up in the flood, but there is life."
Tyler Daswick
Tyler Daswick is a senior writer at Relevant. Follow him on Twitter @tylerdaswick.