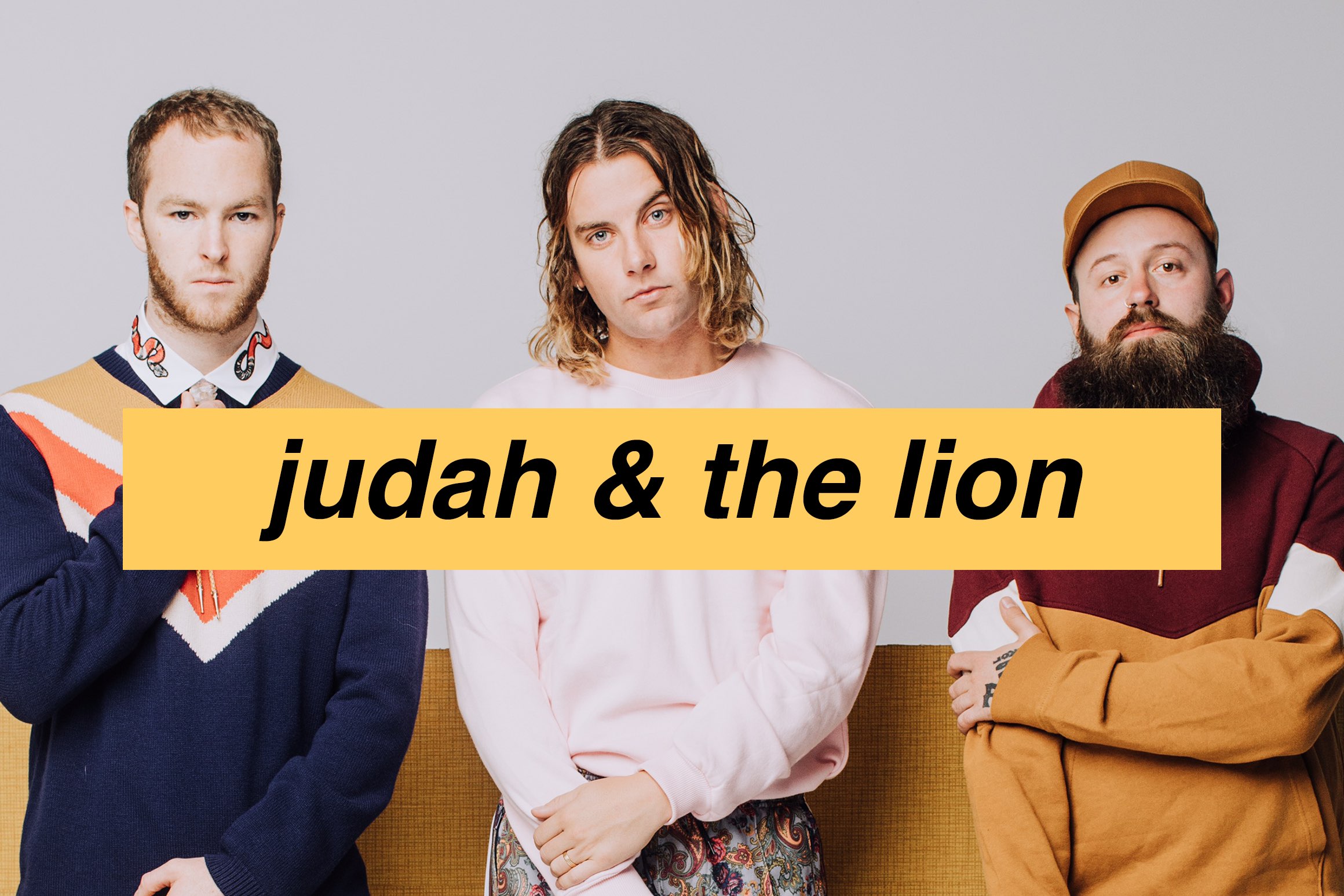 On the second track of their new album, Pep Talks, Judah & the Lion frontman Judah Akers admits to listeners, "All these stories probably should be just for my therapist," adding, "this whole record might be a quarter-life crisis."
If you've followed the career of the Tennessee indie-rock outfit, that might seem like an odd admission. Since their first release back in 2012, the band has seen a steady rise in popularity, culminating with 2016's Folk Hop N' Roll. Led by the breakout single "Take It All Back"—which sat atop Billboard's Top Alternative Songs chart for a month—the album landed them on late-night talk shows, major festival line-ups and sold-out concerts around the world.
Pep Talks, their first new music in three years, should sound more like a celebration than a breakdown. Its first major single "Pictures" even features a collaboration with Kacey Musgraves, who is coming off an album of the year win of her own.
However, in the midst of all of the recent professional success, Akers himself was hitting a personal low.
"From the outside looking in, we were playing these amazing shows—playing bigger shows than we ever have as a band which was so gratifying and joyful—but internally, for me, I was just going through kind of this version of hell," he says, looking back to writing the album.
The story of that version of hell—and how he's made it out on the other side—is a dramatic one, but the core of Pep Talks is more than just a heartbreaking story: It's a reminder to anyone else who's watching their life fall apart that things will get better.
"We have a lot of people at our meet and greets, or that we meet, that really deal with suicidal thoughts or self-harm or depression and anxiety," Akers says. His message to them: It's OK to not be OK. They're not alone. Things will get better.
These are truths he recently had to learn for himself.
BITTERSWEET SUCCESS
Akers, who plays guitar in addition to providing lead vocals; Brian Macdonald, who plays mandolin; banjo player Nate Zuercher; and former drummer Spencer Cross met while they were students at Nashville's Belmont University.
Combining their eclectic music backgrounds (They are one of the decidedly few rock bands with a dedicated mandolin player.), the four friends began experimenting with music together, and by their senior year they were one of the school's most popular acts, headlining the school's Christian music showcase concert and winning the "Best of the Best" battle of the bands.
But in their early days, the band had a much different approach than tackling some of the heavier themes found on Pep Talks: They were a worship band. Their first EP was called First Fruits, and featured slow, folk-inspired praise music. However, after gaining more and more attention and further expanding their sound, they decided to write more personal songs that would appeal to audiences from any background.
"We didn't want to be pigeonholed and only play for Christians," Zuercher says, looking back on those early days. "We wanted to make music that was available to everyone, but had themes of what faith means to us, just not punching anybody in the face with it."
As the lyrical themes began to evolve, so did the music itself. While their early releases leaned heavily on their bluegrass backgrounds, they would eventually incorporate more elements of indie-rock, synth-dance beats and fuzzed out guitars.
By the time "Take It All Back" was exploding, they'd established themselves as one of the more unique bands in Nashville. But as they reached new professional highs, Akers' personal life was crashing in around him.
While he was touring the world, back home, his family was in crisis. His aunt had just died from a prescription drug overdose, his mom was battling alcoholism and his parents were going through an ugly divorce. Sure, he was now an adult with an exploding career unfolding in front of him, but he was still a kid from Tennessee whose family meant everything to him.
"I grew up in kind of a southern town in Tennessee, kind of a smaller town, just outside of Nashville where family is so important," he says. "I'm very, very close with my parents."
Watching his family fall apart while also balancing the pressures of trying to write a follow-up to a hit album was taking a toll on Akers.
For a while, he just tried to compartmentalize things, burying the trauma of an intensely difficult season under layers of enthusiasm, performative calm and emotional distancing.
"During this season, I kind of had a hard time being honest just with myself and what was happening around me," he remembers. "We were out on the road, and you kind of have to have everything together just as a performer, but internally I just felt like everything was kind of going to crap."
While visiting with a counselor, Akers had a revelation that would not only help change his life—but would also shape the direction of Pep Talks. He was telling his counselor about his aunt, his mother's addiction, his parents' divorce and the pressures of touring, when his counselor interrupted him.
"He said, 'You know, it's just really interesting to me, you've said all this stuff, but you haven't really changed the expression on your face,'" Akers says. "And it was just this moment where I realized I was like bullsh***ing my counselor."
The exchange led to a breakthrough. Akers realized that even though he would talk about the things going on in his life, he wasn't actually dealing with them.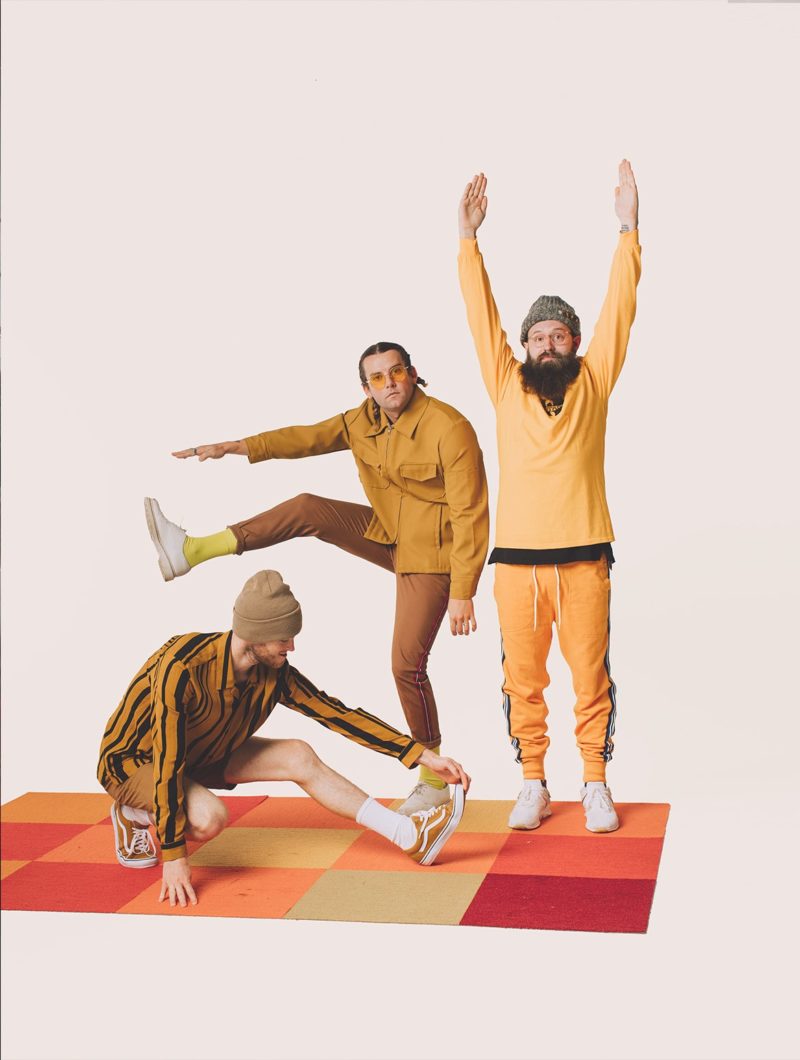 He'd tell people about his family troubles, but he never allowed himself to actually feel the pain of it all.
"The floodgates just kind of came rushing in," he says. "For the first time I was like, 'It's OK to feel these things and process these things.'"
GETTING HONEST
Pep Talks isn't exactly a happy album. Sure, there are some big, fun moments that will make for a great live show, but it tells a heavy story of what it feels like when a family faces trauma; what it's like to see someone struggle with addiction; how helpless it feels to go through tragedy.
"We didn't want to be pigeonholed and only play for Christians."
When Akers realized it's OK to be honest about pain instead of trying to hold it back, he made an album that's intensely personal and deeply heavy. But something else happened when he got vulnerable and shared his story with others: He realized he wasn't alone after all. He realized that by owning his story, he got to decide how it ended.
As it turns out, when you decide to take control of your narrative, you get a lot more editorial oversight into how the plot functions. Not total control but it's better than nothing. And most importantly, it's yours.
The album is the story of a quarter-life crisis—but also about how to make it through one.
"It doesn't matter who you are, your story matters so much but your story doesn't define you," he says, discussing the message of the album. "At the end of the day you get to define your story."
Jesse Carey
Jesse Carey is a mainstay on the weekly RELEVANT Podcast and member of RELEVANT's executive board. He lives in Virginia Beach with his wife and two kids.