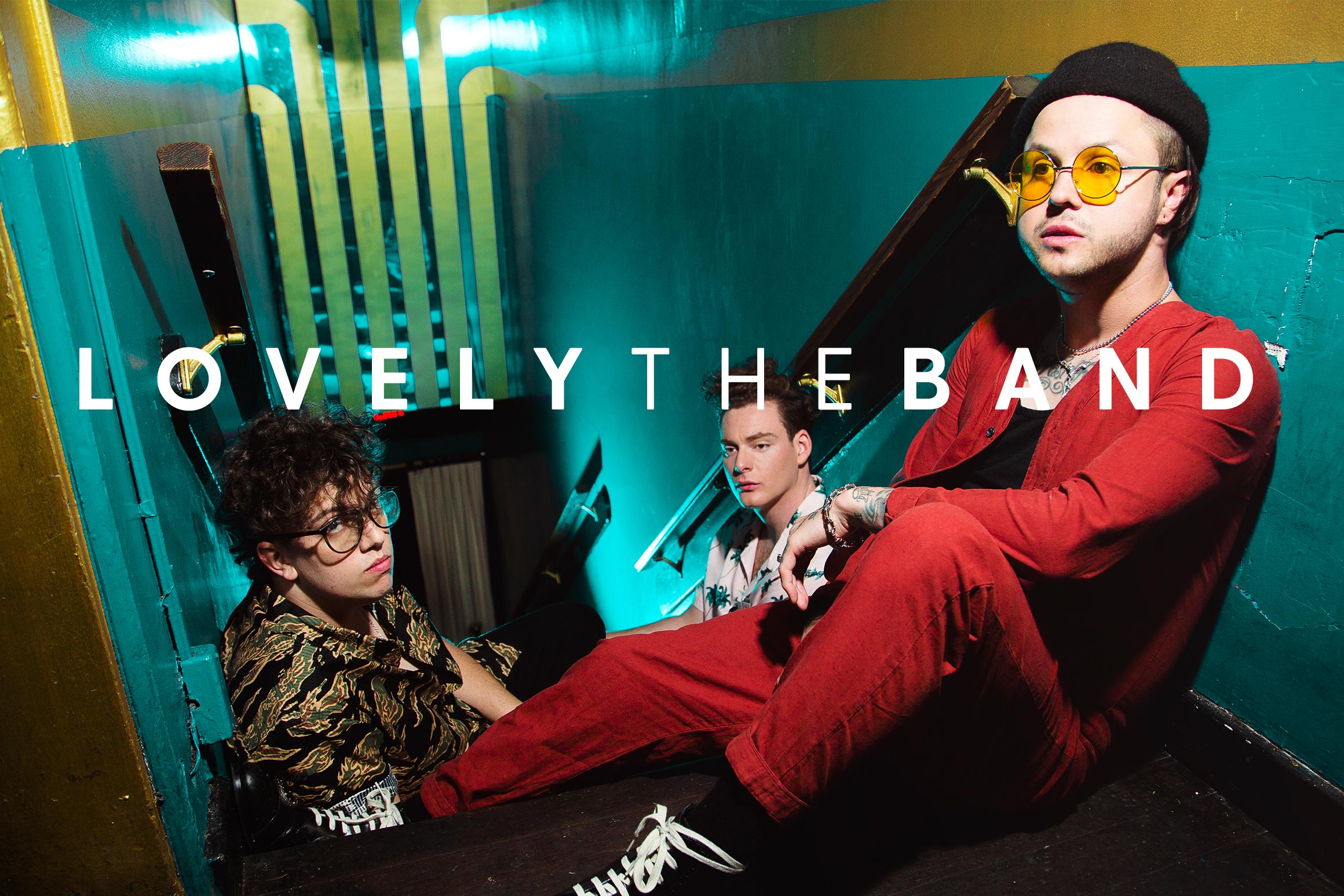 There's a good chance that by now you've heard the song "Broken" by lovelytheband dozens of times. Though it dropped back in spring 2017— more than a year before their debut album Finding It Hard to Smile would release to rave reviews—the song has become one of those slow burn indie-pop masterpieces that is suddenly everywhere.
A year after its release, it held the No. 1 spot on Billboard's alternative charts, hit No. 8 on the Top 40 chart and became the No. 1 most-played song on rock radio.
But if you were to just hear the song playing in a store, on a TV show or in the background while eating at a trendy restaurant, you might miss something that you'll only catch if you're really listening to it: Despite its dancy beat and catchy keyboard riff, "Broken" is a heartbreaking song. Though the anthemic chorus, with its big gang vocal sounds triumphant and joyful, it's actually a song about what it's like to experience brokenness and to be around others who've experienced it too. In the hook, frontman Mitchy Collins belts, "I like that you're broken / Broken like me / Maybe that makes me a fool." It's a powerfully vulnerable line.
The whole making-the-album process is definitely like a therapy session for me… I've got to let my heart speak— myself speak
"The juxtaposition with the music is like—as opposed to having a fully depressive episode for an hour—I think it's a little bit easier to digest with some of the topics we try to tackle on the record with the music being a little bit brighter," Collins explains.
That idea of mixing real, deep emotions with sunny, powerful music is at the core of not only who they are as a band—but who they've always strived to be as musicians.
A LITTLE BIT BRIGHTER
"The night of the release we were all crying," Collins says, reflecting on the day their debut album dropped after two years of working on it. And when he says it, you get the impression that he's not being figurative. With songs like "Maybe, I'm Afraid," "Pity Party," "Alone Time" and, yes, "Emotion," these aren't guys who are afraid of showing their emotions.
Collins, Jordan Greenwald and Sam Price first met on the West Hollywood indie-rock scene, and quickly found that they all shared a love for a certain kind of music. They all gravitated to artists who wore emotions on their sleeves and recognized the power of vulnerability.
Collins looks back at early aughts emo bands like Taking Back Sunday and Dashboard Confessional as being formative with their ability to blend punk rock music sensibilities with real emotional depth. He says that listening to the bands that broke out during the emo boom helped him "figure out how to feel things" as a teen-ager dealing with heart-break and rejection.
Greenwald, a multi-instrumentalist who also sings background vocals, says he first experienced the power of music to really move a person when his dad took him to a U2 concert at the Staples Center in L.A. He was just 7 years old at the time, but that performance left a lasting impression on him.
Price, the band's drummer, remembers his older sister introducing him to Switchfoot and embracing rock music before eventually turning to study jazz. Along the way, he discovered heavy metal, and it changed how he thought about music. But it wasn't just the driving rhythms that appealed to the young drummer. It was the same thing that turned Collins on to Dashboard Confessional and made Greenwald into a U2 fan: Metal helped him express things he felt but couldn't articulate on his own.
"People aren't moshing to hurt people—people are moshing to get their stuff out," Price says, looking back at the days of attending metal concerts. "That's when I realized that people had problems that they like to get out with music, so I kind of started getting an emotional connection to that stuff."
And yes, the album can be heavy (the song "Pity Party" contains the lines, "I'm a sad man / I should probably fix myself / In a sad world / I'm just asking for a little help"), but it's not just the pop-friendly music that makes it actually sound so joyful.
Somewhere along the way, lovelytheband realized that getting vulnerable—even it if means talking about the hard parts of life—isn't about bringing people down.
It's about gaining freedom.
MUSIC THERAPY
"The whole making-the-album process is definitely like a therapy session for me. I'm not really good at talking about things that I should be talking about out loud. I've got to let my heart speak— myself speak," Collins says. "It helped me own up to stuff that I maybe didn't own up to in the past about myself."
When Collins sings about loneliness or wrestles with his anxieties in his songs, there's a therapeutic quality to it. You get the sense that his songs aren't him dwelling on darkness, they're helping him release it, while also letting others know that they should be able to release theirs too.
"The whole record is just my life in 16 songs," he says. "It's stuff I'm dealing with on a day-to-day basis, from depression and anxiety and all of the struggles that come in and out of that, girls who I wished loved me back … things that I wish I could make better about myself."
He remembers a fan coming up to him to talk about the song "Pity Party," in which he vents about all of his deeply personal emotional struggles.
"They said, 'Wow, you described how I feel on an everyday basis in a song,'" he remembers. "That's a cool thing to hear because I feel like an important thing about songwriting and musicians, and songs in general, is maybe being able to say some things that people don't know how to in their everyday life, or they might be scared to."
In the final lines of the chorus of "Broken," the song that has made them into one of indie-pop's most rapidly-rising young bands, Collins sings, "I like that you're lonely / Lonely like me / I could be lonely with you."
Lovelytheband doesn't want to bring you down with their emotionally dark music. They want you to know it's OK to feel anxious, sad and even lone- ly sometimes, to tell others how you're feeling and ultimately, to realize you can't really be totally alone, if they're lonely with you.
Jesse Carey
Jesse Carey is a mainstay on the weekly RELEVANT Podcast and member of RELEVANT's executive board. He lives in Virginia Beach with his wife and two kids.