The Chronicles of Ray Bradbury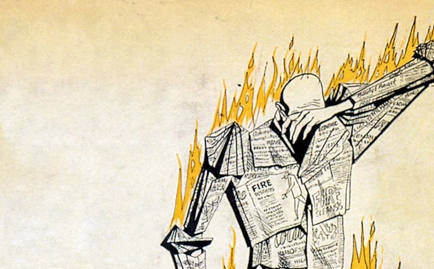 Pretty much everyone would say Ray Bradbury has a gift for writing. After all, he's a man who has published more than 50 novels including that evergreen high-school requirement Fahrenheit 451, and written hundreds of short stories and a host of screenplays, including the adaptation of Moby Dick for legendary director John Huston. Fahrenheit 451 remains in the public consciousness for its searing critique of censorship (451 degrees Fahrenheit is the temperature at which paper burns—in Bradbury's dystopian view of the future, that temperature is used to burn books) and control over learning and intellectual pursuit. 451 remains a classic and lends Bradbury a perspective valuable no matter what era he speaks in.
"I love movies, books, theater, writing short stories and writing
novels and combine them all in one person," Bradbury explains. "Life
inspires me. I make up things first thing in the morning. God gives
them to me, I wake up and say, 'OK, I'm going to write these right now.'
Everything happens in the morning as I wake up. His voice speaks to me—in one ear, out the other and onto the page."
With such inspiration, Bradbury says he has written every day for the
past 80 years, including one night in Paris when he wrote three plays
in a single night, noting wryly, "Paris does that to me." The French have returned the love by giving him the coveted French Commandeur, Ordre des Arts et des Lettres medal in 2007.
These days, the Waukegan, Ill., native is even busier than he has
been for a long time—as one of the editors overseeing the recent
rebirth of one of America's great magazines, The Saturday Evening Post, writing regular short stories for them and for another revived
literary mag, The Strand. He also just closed a deal with a production
company to shop a six-hour TV miniseries to major networks, in which
six famous directors will each select and bring to life a favorite
Bradbury classic short story.
Additionally, at age 89, Bradbury has a gift to offer Los Angeles area theater audiences, presenting his long-lost, never-produced play Ray Bradbury's Merry Christmas 2116 this December. It's going to be at the Fremont Theatre, a place Bradbury has a long-standing relationship with.
"You experiment with which place works out the best for you, and I've been through eight theaters for my plays," Bradbury says during a recent interview at his home in West Los Angeles. "I like the size of the Fremont, its 90 seats. I have everything to do with the play, not them. I cast them, I pick my director and we [Bradbury's Pandemonium Theatre Co.] all come from somewhere else and just bring the show to the Fremont."
In 2116, Bradbury's 10th production at the Fremont (which included The Wonderful Ice Cream Suit and, of course, smash runs of Fahrenheit 451), an elderly couple approaching their 40th wedding anniversary each decide to give the other a present. The gifts in question are robot versions of themselves that are younger and hotter, setting off a series of screwball situations that should provide plenty of laughs to go with the tunes.
The truly amazing part of the play's history is that it was originally conceived for the husband-wife film-star team of Charles Laughton and Elsa Lanchester 50 years ago, with the great director James Whale (the original Frankenstein) attached to helm the production. But when Whale died suddenly, the play was set aside until now. The new production has a brand new musical score by John Hoke to go with Bradbury's book and lyrics.
Bradbury looks back with pleasure on his history with colleagues like
science-fiction great Robert Heinlein, who mentored him and helped him
sell his first story. He is also proud of his legacy as the creator of
the film societies of the Writers Guild of America, Screen Actors Guild
and Directors Guild of America.
"There are thousands of people seeing movies today because of me. I
formed the film societies to teach people about the films I loved," Bradbury says. "I met Samuel Goldwyn, one of the greatest producers of
all time, for lunch after showing Dodsworth. It just goes to show—do what you love and it will influence people you never expected."