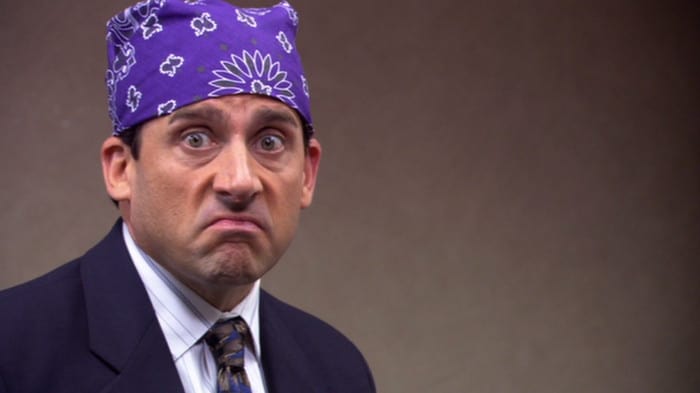 Happy Boss' Day! If you're a boss, congratulations, because instead of a day where people work really hard to please you and fulfill your vision for the company, you have a day where…people work really hard to please you and fulfill your vision for the company. Yay! If you're not a boss, hang in there. You'll be a boss someday. In a sense, you're a boss right now. You're welcome.
We're celebrating Boss' Day around here the only way we know how, by honoring the World's Best Boss, Michael Scott. Here's a collection of the Regional Manager of Dunder Mifflin Scranton's best moments as a leader.
The Business Lecture
Michael's appearance at Ryan's business school was engaging, enthralling and hip in the way your weird uncle tries to be hip. That's not to say it was good. It's just to say it was Michael. We always forget how he brings his own walk-up music. Incredible.
His Life Goals
Truly, these are the standards we should all apply to our lives. Will an attractive woman cry at your funeral?
His Bouts of Showmanship
As a leader, it's really important to inspire your subordinates, and that's why Michael put himself in a straitjacket. He wanted to raise morale and blow past the boundaries of the possible with a demonstration for his employees. It went great. We loved it.
His Presence Amid Times of Trial
You always want a leader who can meet his employees on the level when things become hard away from the workplace. It shows sensitivity and heart in an environment that often can feel sterile and cold. Michael does a fine job of that here. Oh, also, did we mention we're going through something right now? Yeah, this good family friend of ours had an accident last week. Crockpot malfunction in his kitchen. Whole place went up and he didn't make it. It's been really tough.
His Strong, Unwavering Stances
You want a boss who stands up for you and the values of your company, no matter who's in the way, what's on the line or what's been eaten.
His Grace In the Face of Mistakes
After Michael falls into a coi pond, he raises awareness of the need for sensitivity in the workplace. This is a savvy boss move, because it encourages unity and cohesion among your workers and allows people to look past their insecurities so they can be more cooperative and productive. Classic Michael tactic.
His Boss Routine
The best leaders set an example in their day-to-day lives, even when they're not in the office. Michael is case in point. His morning routine, involving six strips of bacon and a George Foreman grill, is the perfect embodiment of how you carry yourself as a boss in every moment. Truly inspiring.