Why the Grammys Are Ridiculous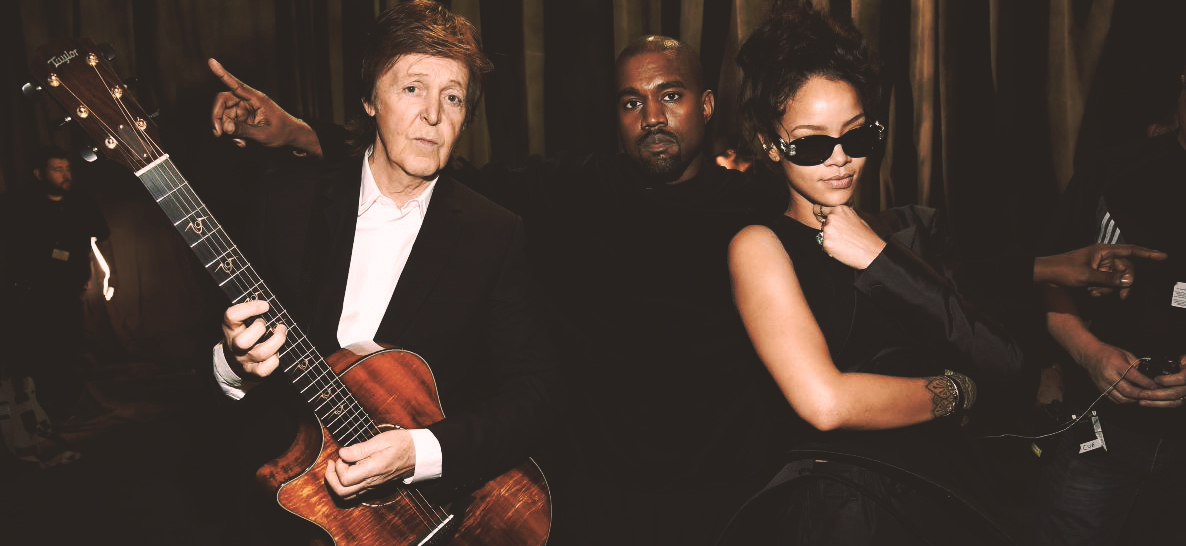 This Sunday will see the 55th Grammy Awards take the stage with the year's biggest pop sensations and stars attempting to continue the show's long, proud tradition of not making much sense.
Unlike the Oscars or Emmys, which, for the most part, are widely recognized for their blend of critical credibility and dignified entertainment value, the Grammys are pretty much just a televised concert with some meaningless trophies handed out between sets.
When the award show started back in the late '50s, pretty much the only way to hear new music was in the movies or on AM radio, so the show made sense. Why not award the handful of artists that the public was actually aware of?
Fast-forward 50 years, and pretty much everything in the music industry has changed. Everything, that is, except for the Grammys. Today, the show is more likely to award the winner of a televised karaoke contest the prestigious honor of a gold-plated gramophone (there's your metaphor for just how out of touch the Grammys are) than a musician who has actually made a meaningful artistic contribution.
Think we're being too harsh? Let's a take a look at some Grammy ridiculousness.
The Categories
Glancing at the Grammy award categories, you may make a couple observations, like, "This category makes no sense," "Wait, aren't these two categories exactly the same?" "What year is this?" and, "I'm very, very confused."
Awards are given out in the categories of both "Record of the Year" and "Album of the Year." "Record of the Year" is actually an award for individual songs. So really, it's not confusing at all—aside from the fact that there is also an award for "Song of the Year."
Within individual genres, Grammys are also awarded for best song and best performance, which, coincidentally, are also the exact same thing. Both are just awards for single songs.
Then there's the confusing genre distinctions. "Best Alternative Album" and "Best Rock Album"? Guess which categories Coldplay and Tom Waits fall into this year. Coldplay, not exactly known for being the world's last true keeper of the flame, is nominated for the year's best rock album. And that fresh sound tearing up the alt-rock charts is none other than the AARP-aged Tom Waits. Again, the categorization made sense when "alternative rock" was actually an "alternative" to the mainstream. But these days, that line has become so blurry as to be completely meaningless.
It only took the Grammys until 1996—a mere 15 years after hip-hop had become an inescapable force in pop-culture—for rap to be added as a category. Now, they're covering all of the bases—the year's "Best Pop Instrumental Album" is still recognized. And then there's the category of "Best Recording Package"—always a crowd favorite.
The awards also have a tendency to completely marginalize artists whose songs contain any religious themes or lyrics by lumping them into "Contemporary Christian" or "Gospel" categories—completely ignoring what their music actually sounds like. Take, for example, the breakout album, Gravity, from hip-hop's rising star Lecrae. Are the album's faith-centered lyrics really all it takes to get it nominated for "Best Gospel Album" while also getting it completely snubbed from "Best Rap Album?"
The Artists and Performances
The most entertaining part of the Grammys is unquestionably the performances. In recent years, the show has featured some genuinely cool collaborations among multiple generations of artists: Tony Bennett and Carrie Underwood; Paul McCartney, Bruce Springsteen, Dave Grohl and Joe Walsh; Maroon 5, Foster the People and the Beach Boys; Mumford & Sons, the Avett Brothers and Bob Dylan; and a handful of others.
The only problem is, with so much talent performing on the same stage, inevitably, some artists take it upon themselves to upstage their fellow stars. This usually involves TV-MA wardrobe choices. The problem of attention-grabbing on-stage outfits has gotten so bad that this year, CBS actually had to send out a memo to pop stars reminding them that nudity was not allowed. The hilariously detailed leaked email ("thong type costumes are problematic") actually spells out the fine line between provocative and publicly indecent.
But even if the outfits will be toned down this year, it's still a safe bet that artists will find memorable ways to express their artistic passions in more subtle ways befitting a black-tie gala. Like being carried down the red carpet in a massive plastic egg.
The Awards
Another major criticism of the Grammys is the curious choices in regards to the actual winners. For most music fans, 2001 will be remembered for groundbreaking efforts like Radiohead's Kid A or Beck's Midnite Vultures—all of which were nominated for "Album of the Year." Grammy voters, thankfully, went with the obvious choice: Two Against Nature from Steely Dan. Even Steely Dan fans didn't realize they were still around.
In 1990, the Grammys picked another solid winner with "Best New Artist" Milli Vanilli—an award they later had to revoke when it was revealed that the duo was a fraud. And hardcore hip-hop fans finally had their voices heard when Will Smith was awarded a Grammy in the rap category in both 1998 and 1999 for "Men in Black" and "Gettin' Jiggy Wit It." Groundbreaking stuff.
Of course, it's hard to keep everyone happy. On the rare occasion that the Grammys are awarded to deserving artists, Grammy viewers react with the social media equivalent of torches and pitchforks. In 2011, when Arcade Fire beat out Lady Gaga, Katy Perry, Eminem and Lady Antebellum for "Album of the Year," the Internet temporarily exploded with the uninhibited rage of scorned pop fans. There's an entire website devoted to the tweets of those outraged that some Canadian no-names beat out Katy Perry, including one from Rosie O'Donnell: "album of the year? ummm never heard of them ever."
Bon Iver (who's already sad enough) suffered similar fallout after he beat out pop favorites like Nicki Minaj for "Best New Artist." Confused and outraged, so many people started tweeting their outrage at "Bonny Bear" that it started trending worldwide.
So this year, enjoy the performances and root for your favorite artists, but remember: If they lose, it doesn't matter. The Grammys are ridiculous.
Jesse Carey
Jesse Carey is a mainstay on the weekly RELEVANT Podcast and member of RELEVANT's executive board. He lives in Virginia Beach with his wife and two kids.