Review: In 'High Flying Bird,' Athletes Are More Than Just Slabs of Meat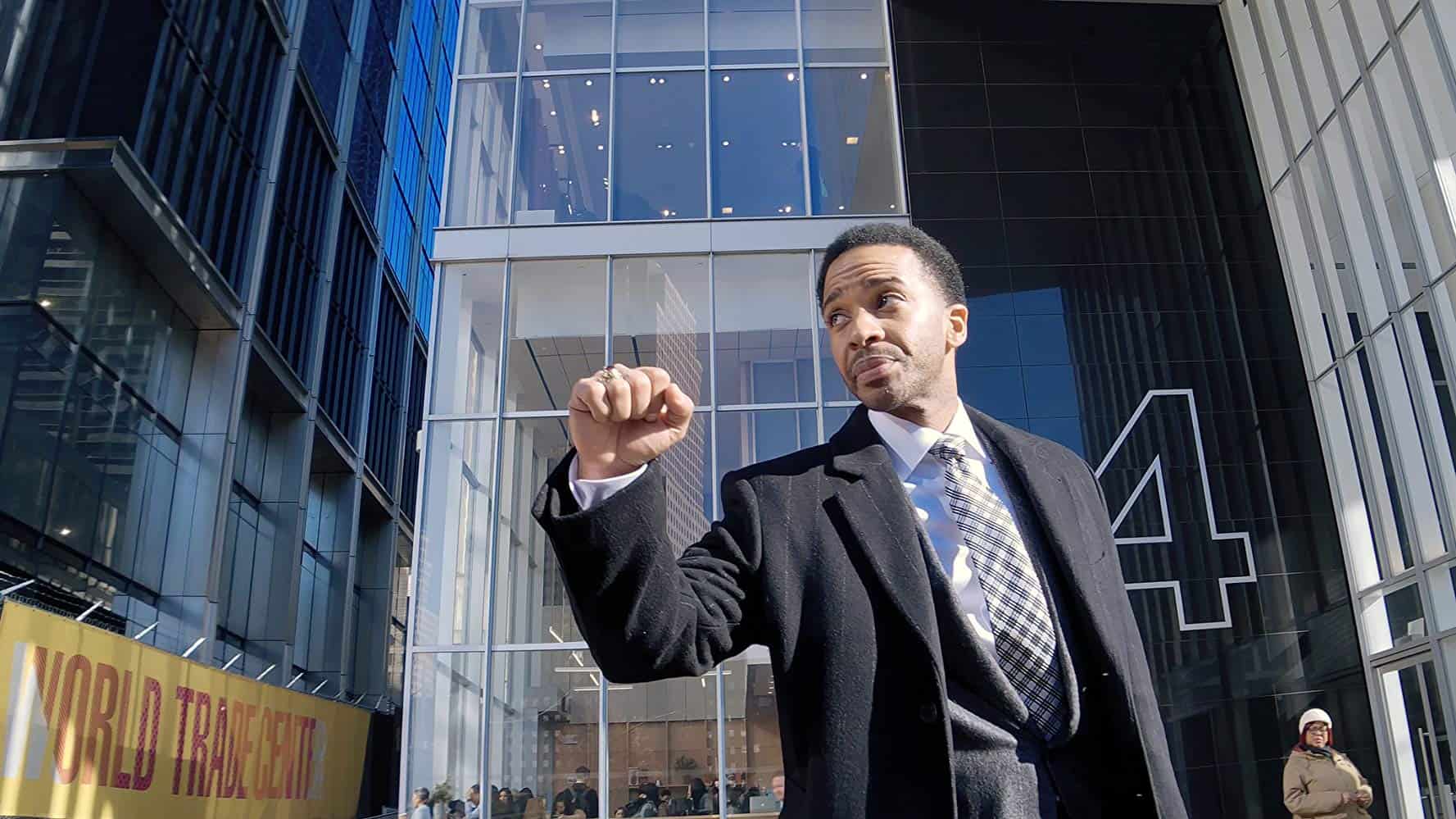 A basketball dribbles around four times in High Flying Bird. More Jerry Maguire than Hoosiers, this Netflix sports flick puts more emphasis on behind-the-scenes deals, negotiations and politics than on-court drama. With this movie, that's a huge positive. High Flying Bird says a lot about professional sports despite playing off the ball.
Bird centers on Ray (André Holland, awesome), a savvy-yet-suppressed sports agent whose top client is the reigning #1 overall draft pick in the NBA. That would typically mean a large incoming paycheck for Ray and his client, but in High Flying Bird, the NBA is stuck in a lockout, meaning the kid (and Ray) won't be paid until the league executives and athletes reach a bargaining agreement.
In practice, that means a battle on two fronts: 1) Ray needs to find a way to help end the lockout, and 2) He needs to ensure power remains in the hands of his athlete. High-level talks in the world of sports tend to commodify talent, so for Ray to give his client the best deal possible and enjoy a larger piece of the pie himself, he needs to preserve his client's humanity. These guys aren't just tall pieces of steak you can dice up and portion out; they're employees with in-demand skill-sets.
High Flying Bird's story could only be told now, amid what some in the sports world call the "Player Empowerment Era." Over the last decade, professional athletes have become activists, entrepreneurs and cross-cultural trendsetters, galvanizing them to pursue greater control over the money they make, which teams they play for and the stipulations within their contracts. In the NBA, this means more guaranteed money (so injury can't doom someone's financial future), active roles in the Player's Association (the group that negotiates with the league on behalf of the athletes) and greater freedom to conduct business endeavors outside of sports (this is how LeBron James and Steph Curry can have production companies in Hollywood, for example).
Though this cultural shift in sports would be a ripe topic for a documentary, High Flying Bird provides a curious alternative take through its fictional story. In this movie, the agents and athletes assume autonomy through their athletic ability rather than their business acumen or non-sports talents. It's an important distinction.
No spoilers here, but Ray's strategy to end the lockout hinges on his clients leveraging their athletic ability to put pressure on the NBA. These developments conjure a hypothetical situation in which real-life athletes can use their ball skills to their advantage in non-sports circumstances. Right now, the most empowered players accumulate knowledge, resources and assets away from the game, but High Flying Bird floats that idea of a basketball freelancer, and that provokes some frankly fascinating thought experiments about how professional athletes—boxed in nowadays in more ways than one—can be stronger self-advocates.
Perhaps you're thinking: "But these guys are paid millions to put a ball in a hoop, so who cares if they lose a little negotiating power?" High Flying Bird lets real athletes respond to that by weaving interviews with young NBA stars throughout the movie. It's an overt way to communicate the movie's message, but these conversations serve as strong scaffolding for what Bird posits through Ray's story. Donovan Mitchell of the Utah Jazz, Karl-Anthony Towns of the Timberwolves and Reggie Jackson of the Pistons discuss their transition processes from amateur athletes to pros. Their answers are revealing, lending the movie a sense of urgency it might not have otherwise.
What you come to understand through High Flying Bird is that the demands on professional athletes hit so fast and run so deep that to not grant them autonomy would lead to disaster. When 19-year-olds are handed tens of millions of dollars, it's a privileged situation, sure, but it's not a smooth transaction. People come calling. Temptations beckon. The requests mount and the promises pile up. Not giving a young person freedom to seek help, make informed decisions and self-advocate within such a high-stakes system is irresponsible. A lot of people can give money advice; few can give advice about $20 million.
For a movie to take the side of overnight millionaires might sound like a doomed position, but High Flying Bird makes a compelling argument. It explores the notion that the individual success of professional athletes is still a team effort, and it's convincing. By the end of its breakneck 90 minutes, you might find yourself leaning forward, nodding along and ready to take up the fight for yourself. You'll want to shake this movie's hand. Talk about a strong negotiator.
Tyler Daswick
Tyler Daswick is a senior writer at Relevant. Follow him on Twitter @tylerdaswick.