Famed Broken Clock Pat Robertson Says Police Need to 'Open Their Eyes' to the Reality of Police Brutality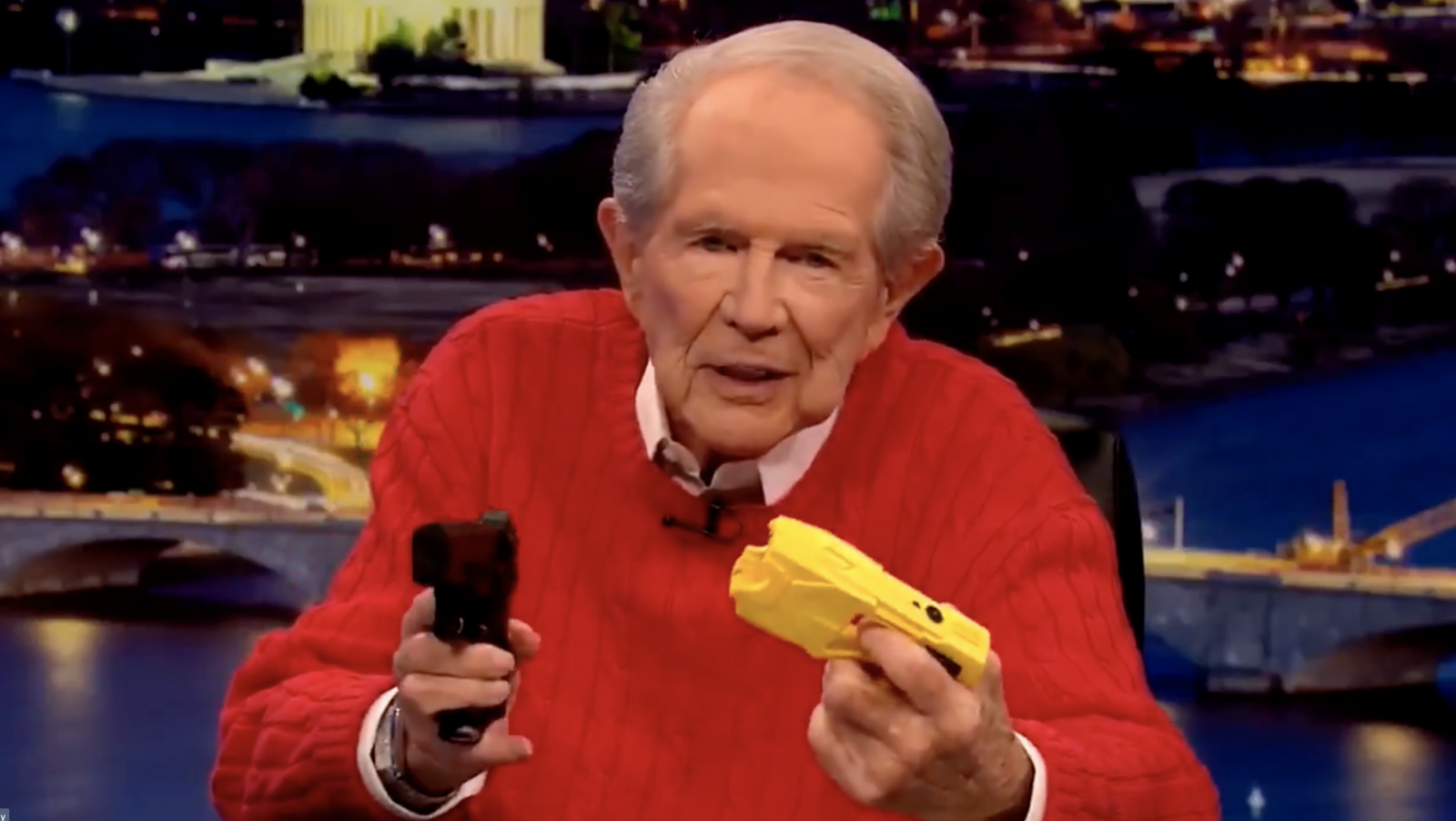 Pat Robertson is a study in contradictions. On the one hand, the 700 Club host is well-known for some truly wild and undeniably offensive beliefs, such as blaming 9/11 on members of the LGBTQ community or saying Black Lives Matter wants to "destroy Christian values." On the other hand, he has more mainstream liberal views than you might think, such as being an early believer in climate change, calling on former President Donald Trump to acknowledge President Joe Biden's victory and dismissing young earth creationism as "embarrassing nonsense." Robertson simply doesn't fit into any convenient ideological box.
Now, the white evangelicalism's most iconic broken clock is at it again in discussing the tragic death of Daunte Wright. Wright was the 20-year-old Minnesota motorist who was killed by police in what should have been a routine traffic stop. Former police chief Tim Gannon said that former officer Kim Potter may have mistook her gun for a taser. Both have since resigned and Potter is being charged with manslaughter.
The "taser defense" has sent plenty of heads scratching, not least of which is Robertson's. He told his 700 Club audience that there was just "no comparison" between the look and feel between a taser and an actual firearm.
"If you can't tell the difference in the feel of those things, it's crazy," Robertson said. "I am pro-police, folks. I think we need the police. We need their service and they do a good job. But if they don't stop this onslaught …they cannot do this."
He referred to the footage of Virginia police pulling over Black and Latinx Army officer, 2nd Lt. Caron Nazario, which went viral for the violent and threat-filled tirade officers issued. "Our police are highly trained, but why they didn't stop this," Robertson said. "And the thing that's going on in Minnesota with Derek Chauvin. They oughta put him [in] jail. He has caused so much trouble by kneeling on the death of George Floyd. …It's just terrible what's happening. And the police, why don't they open their eyes to what their public relations are? They've got to stop this stuff."
Who had "Woke Pat Robertson" on their 2021 bingo card? pic.twitter.com/nCYlQsma3O

— W. Kamau Bell (@wkamaubell) April 15, 2021
Kinda weird, right? You can accuse Pat Robertson of many, many things but you can't accuse him of towing any party line.