For the second year in a row, the coronavirus is derailing many New Year's Eve plans. Friends are canceling big parties, cities are preparing for a COVID surge, and the unpredictable weather is keeping most of us indoors. While you may not be ringing in the New Year with a massive party, you can still celebrate with some familiar faces.
Even though there aren't many TV episodes about New Year's Eve, we've rounded up a few of the best NYE episodes for you to stay in (and stay safe) this Friday night!
The Office "Ultimatum"
Where to Watch: Peacock
This hilarious episode follows Michael try to keep his cool as Holly Flax, aka the love of his life, returns from the holiday break without an engagement ring despite her ultimatum. Meanwhile, Pam tries to get the rest of the office to commit to a New Year's resolutions and the ideas they come up with are… inspirational. You might get some good ideas for your own resolutions.
Friends "The One With All the Resolutions"
Where to Watch: HBO Max
Also known as "The One With Ross's Leather Pants." The friends try their best to stick to resolutions, but of course, Chandler can't not make jokes about everyone, Rachel doesn't know how to keep a secret, and Ross runs into some trouble with his pants.
Seinfeld "The Millennium"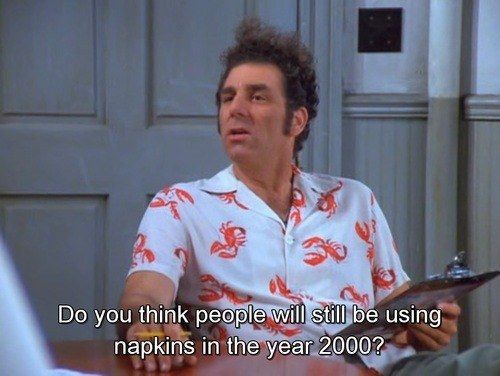 Where to Watch: Netflix
The turn of the century was a big time for everyone. What would happen when the calendar changed to the 2000s? Would the computers take over? What sort of gadgets would go out of style? These questions were consuming everyone's mind — except for Kramer and Newman. Instead, the two friends were focused primarily on having the best millennium party, or the "Newmannium" in Newman's mind.
Modern Family "New Year's Eve"
Where to Watch: Hulu
The beauty of Modern Family is that there's something for every audience member in every episode, including the New Year's Eve special. Whether you want to see a romantic NYE plan, an unexpected or spontaneous adventure, or a quiet night in, this heartfelt episode will remind you that while we all may ring in the New Year differently, the important thing is that we have each other.
30 Rock "Klaus and Greta"
Where to Watch: Netflix
The 30 Rock gang is in full crisis mode as every single person is trying to solve the problems that stemmed for New Year's Eve. Tracy thinks his wife's pregnant with a girl, Jack and Kenneth try to erase an embarrassing phone message he left on New Year's Eve, Liz's cousin visits after she outs him and Jenna agrees to a publicity stunt that involves dating James Franco.
Friends "The Routine"
Where to Watch: HBO Max
You didn't think we'd make a NYE TV episode list with "The Routine," did you? The iconic episode follows Joey and his current roommate/crush Janine, and Ross and Monica as extras on "Dick Clark's New Year's Rockin' Eve." Joey tries to flirt with Janine, but the stars of this episode are the Gellar siblings, who perform their childhood "routine" to get the spotlight on them.