Will Don Draper Be Redeemed?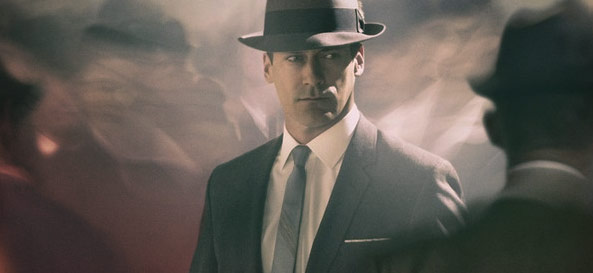 On April 7th, Mad Men will return to AMC. When we last saw our hero/antihero, Don Draper, he was as he often appears—sitting in a bar, being approached by a woman who asks if he's alone.
The season had brought us through a year of a very different Don than the one who looked up and smiled enigmatically in response to the woman's question—a Don who truly seemed to try putting himself on the right track. Recently remarried, he appeared sincere in his quest for an honest, monogamous relationship with his new wife. He even issued advice and reprobation towards his philandering colleagues. He was spending more time with his children, had a cordial enough relationship with his ex-wife and her husband, and took a more vocal role as the office's moral compass.
Really, season five's Draper was the one loyal fans of the show claimed to have wanted to see him eventually evolve into. He was a content man, no longer as tortured by his lies. Yet while Draper was evolving into a better person, critics simultaneously called his new version of married life "depressing," and fans admitted a thrill of excitement when faced with the ambiguity of Don's smile at the blonde in the bar. "He orders an Old-Fashioned and pulls out a cigarette, and there's the strong suggestion, as the music picks up, that we should tune in next season, because the hound dog is back," wrote Slate critic Patrick Radden Keefe about the season finale, adding, "That's an enjoyable prospect, I won't lie…"
Draper began his television existence as a frequently unfaithful, often drunken husband to the dissatisfied Betty, who stayed at home in the suburbs, looking after their two young children. He was ruthless, sharp, arrogant and haunted by his past. But, of course, the appeal was that he was also capable of warmth, chivalry and courage. These were the qualities that viewers would latch on to as examples of Draper's good-hearted undercurrent. But which side of Don do audiences really enjoy the most—Dr. Jekyll or Mr. Hyde?
Trends in pop culture would suggest that the answer is Mr. Hyde. In 2009, Don was named "the most influential man in the world" by AskMen.com, ahead of real-life men such as Barack Obama and Mark Zuckerberg. The unhappy, corrupt, hedonistic side of Don Draper is also the most glamorous; this cool factor is reflected in the lines of men's suits inspired by his character, tumblers for cocktails, and the returning popularity of retro music. Don Draper's life sells like hotcakes, despite the fact that it revolves around boozing and sleeping around, and is often lonely and tormented. People seem to enjoy watching his depravity, not his redemption.
Antiheroes like Don are hardly new territory. From Tony Soprano to Walter White, bad guys are the new good guys. For decades now, cinematic villains have given off a glib, saucy, devil-may-care vibe of coolness, mixing gentlemanly manners with murder. They can pull off a perfectly cut suit and marital infidelity. Viewers can't help but be pulled in, equally charmed and horrified. The inexplicable attraction to such bad behavior, pulled off with such finesse and suave humor, can be fascinating and titillating.
On a recent episode of NPR's Talk of the Nation, Washington Post TV critic Hank Stuever commented on this trend. "The way you launch a television show now is to start off with somebody who is morally corrupt. And really, the arc, the plot, will always be about how much further can they go before it all comes crashing down." The psychology behind this is complex—while Stuever notes that the flaws in modern characters are what make viewers like them, he also adds that he personally feels stress at being caught up in the fictional lives of such troubled characters. "I watch shows like Breaking Bad and Homeland from a place of anxiety," he said. "I think so many of us get so wrapped up in the horror of watching someone continue down a downward spiral."
What is it about corrupt characters that makes us like them? There is, of course, the fact that one-dimensional characters are often boring, but there may be a deeper cause at play here. We recognize in these flawed antiheroes an exaggerated form of ourselves. We realize that, like Draper, we are also a potent cocktail of moral strength and moral lapse. But while most people aspire to defeat their demons and achieve some measure of redemption, we don't wish the same of our fictional antiheroes. We want them to go places we don't allow ourselves to, and it's tempting to root for their moral ruin.
As for Don Draper, knowing now that this season is officially the second-to-last, we're left speculating as to what would be an appropriate ending to Don's story. Will he still be fighting for his marriage when the show returns, having turned down the woman at the bar and stayed on the straight and narrow? Or will he have regressed, returning to his old ways?
More importantly, what about us? Are we hoping for Draper's redemption, against all odds? And if the thought of him ending up happily and contentedly married seems like a letdown, then what does that say about us?
Laura Marcus
Laura Marcus lives with her husband outside of Baltimore, Md. She holds degrees in the fields of political science, french and education and is currently a fledgling writer, test-grader and volunteer literacy tutor.