Is Not Voting an Option for Christians?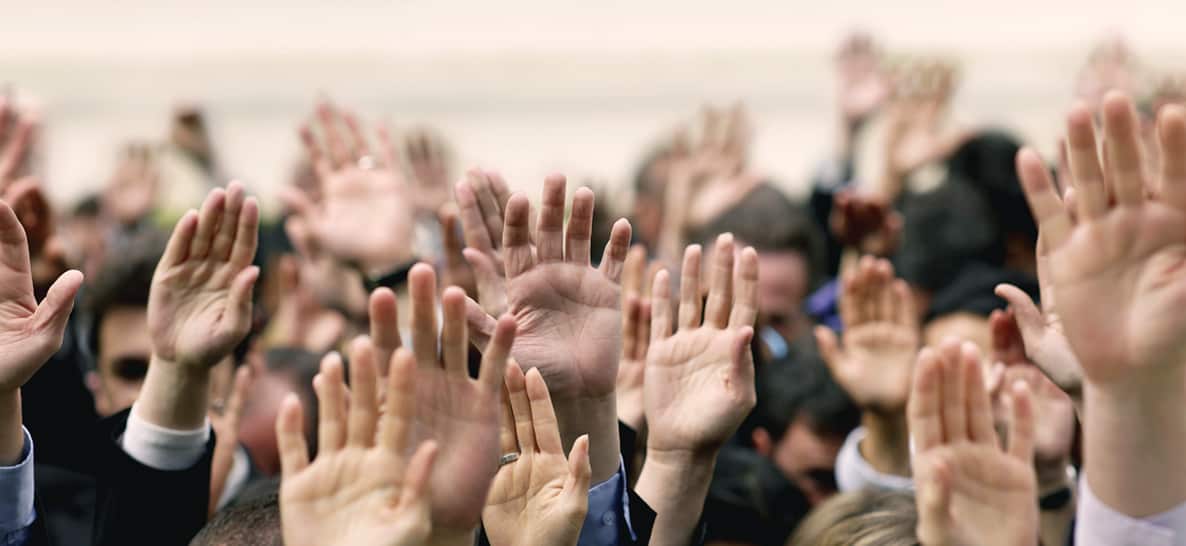 Before you get all "but people died for the right to vote" on me, understand I'm just asking a question. As you've probably noticed, there are a lot of people asking questions this election cycle:
What is going on in America?
Have you ever seen anything like this?
How did a billionaire who lives on Park Avenue become the spokesman for the forgotten midsection of the country?
How can we be serious about nominating an individual under investigation by the FBI?
There is a lot of head-scratching going on in response to our choices for president being between Donald Trump and Hillary Clinton.
In the midst of all these, I want to add to the pile. By no means am I the first to ask it. But perhaps now is the time to present it as question worth pondering: Is not voting an acceptable alternative for Christians?
I know. It's a controversial question. In some suburban church circles, it's borderline heresy. But tons of people are whispering it—and not just those stereotypically irresponsible millennials. So why not just ask it out loud?
Is not voting actually OK?
Why Not Just Vote for the 'Less of Two Evils'?
This disgruntled electorate has—what many feel are—two lousy options. Cynicism pervades popular opinion, prompting a popular blog post by Russell Moore that posed the question, "Should Christians vote for the lesser of two evils?"
I would argue a resounding "No." We don't pick a spouse, job or apartment by that criteria. We don't ask which restaurant is the least likely to give us food poisoning. Lesser-of-two-evils decision making doesn't invade most areas of our lives. It's about as biblical as "cleanliness is next to godliness."
To be fair, I think not voting can be a cop-out. Some people are lazy and apathetic. This attitude is not what I'm suggesting we consider. My thesis is that it's possible that not voting can also be an act of conscience. It can be a Christ-honoring conclusion. Lack of political participation is not necessarily a sign of apathy, especially in the life of a disciple.
The Bible, obviously, does not give direction on the subject of voting; it was written during times when people did not have much of a voice politically. While I agree we should not take for granted the freedoms which we've been given and for which many have sacrificed, I just don't think non-voters, especially Christian non-voters, are abstaining because they're unappreciative.
Voting, the Church and Conscience.
What if your conscience is not aligned with either (or any) candidate or, more substantively, with the political process overall? What if one's political identity and allegiance is to the church and not the nation-state in which they reside, as is posited in this great book on the subject?
If the early church in the Roman empire had possessed the right to vote, would casting a ballot for Nero have been a God honoring choice? What about his rival Gaius Calpurnius Piso, who most would argue wasn't as evil as Nero but was an adulterer and conspirator? The early church, despite their lack of rights, did not seem overly concerned who sat on the Roman throne, instead choosing to invest in Kingdom work that would last regardless of who was in charge of the empire. It leads me to think we might prioritize the same way.
While many will continue to rebuff the notion that not voting is an irresponsible (perhaps even sinful) decision, many more Christians are recognizing circumstances around them that permit that the question at least be asked. Perhaps it's a good thing for believers to wrestle with—if not every year then at least this year.
Is it possible that while voting is an essential element to the work of the republic where we temporarily reside as Christ followers, it will ultimately prove inconsequential to the work of the Kingdom to which we permanently belong?
Not voting has always been an alternative, but historically folks who did not cast a ballot were viewed as unpatriotic. But for some, the decision may be more out of a loyalty to Christ than a disloyalty to their country.