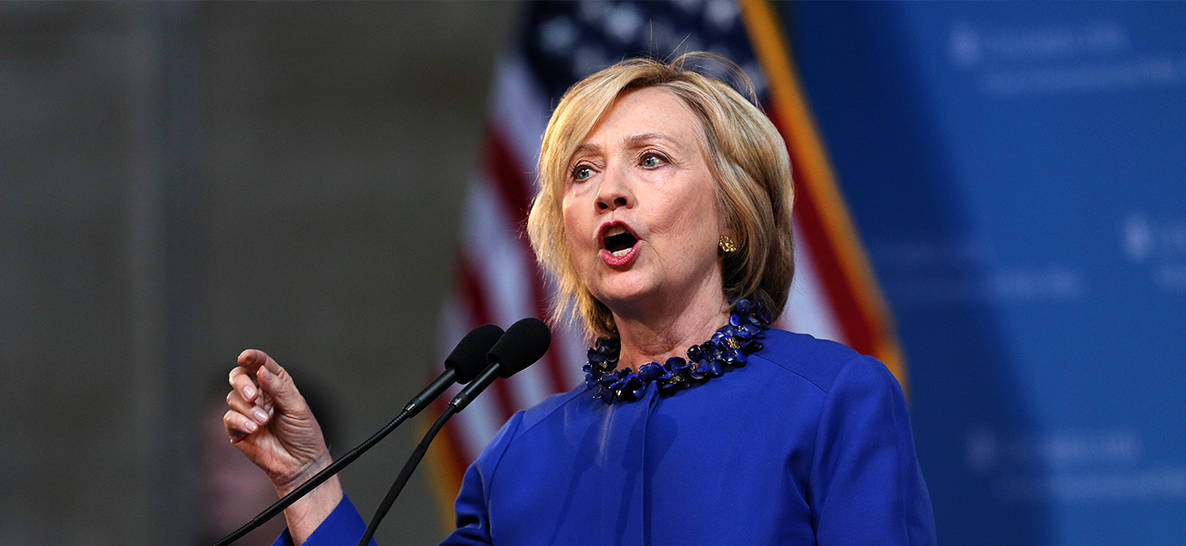 In 1818, William Wilberforce, the key influence behind ending the British slave trade, wrote this in his diary, "In the Scripture, no national crime is condemned so frequently and few so strongly as oppression and cruelty, and the not using our best endeavors to deliver our fellow-creatures from them."
Wilberforce saw the protection of his fellow man as not only a personal and spiritual obligation, but as a national duty as well. Most Americans today would agree with this idea, particularly as we enjoy the privileges of living in a nation where our basic rights are protected by the Constitution.
But what if our government stopped protecting those liberties? What if being human no longer qualified us as worthy of certain, unalienable rights?
In recent weeks, presidential hopeful Hillary Clinton unwittingly ignited a firestorm of controversy during a Meet the Press interview. While discussing abortion, Clinton remarked that "the unborn person doesn't have constitutional rights."
This statement rang in ears of both pro-life and pro-choice advocate alike, drawing immediate criticism from both sides of the aisle. The controversy surrounded Clinton's choice of one simple word: "person."
At the heart of the abortion debate lies an issue of basic human rights. Since Roe v Wade, pro-life advocates have argued that an unborn child is unarguably human, and therefore deserves of the same constitutional right as you and I enjoy—namely, the right to live. In fact, the 14th Amendment provides just that:
No state shall make or enforce any law which shall abridge the privileges or immunities of citizens of the United States; nor shall any state deprive any person of life, liberty, or property, without due process of law; nor deny to any person within its jurisdiction the equal protection of the laws.
Pro-choice advocates have trained their focus on the rights of the mother, and attempted to sidestep the rights of the unborn child by using dehumanizing terms that at least downplay the child's personhood. If the child is not a person, he or she cannot have rights.
But in one fell swoop, Clinton negated the pro-choice argument by referring to the unborn as, in fact, a person. And that's not all. Person is not merely an ideological term, but also a legal one. By using the word "person" to define an unborn child, Clinton was recognizing another person's humanity while also denying that person's basic rights.
In the midst of a heated political season, it's easy to get caught up in the controversy surrounding the messaging and word choices of particular candidates. But Clinton's remark is not about a debate in semantics.
This is a statement that draws a line in the sand, determining who receives the privilege of Constitutional protection and who does not.
This is a significant statement for Americans. But more importantly, as Christians, we understand that our human rights extend far beyond the Constitution. Our rights exist because God has placed value on each of our lives—equal value across the board on all human lives.
And, because God loves us and places the highest value on our lives, we're able—and required—to defend and honor the rights of our fellow man.
It was this belief that led William Wilberforce to be a catalyst for emancipation in England, forever shifting his political landscape in the process. As we process through Clinton's statement, and consider the issue of abortion at large, let's look deeper than ourselves and the freedoms that we personally enjoy every day.
Let's ask ourselves how we can be an advocate and a voice for the rights of others. In God's storyline, this includes everyone, both the rights of women facing an unwanted or unplanned pregnancy and the rights of unborn children.
Clinton's statement may have rocked the boat with both conservatives and liberals, those for and those against abortion. But at the end of the day, after we've filtered through the political arguments, let's remember why we have rights and where they came from in the first place. And let's be a people who affirm those rights for others, just as if they were our own.
Love your neighbor as yourself. That's a great place to start.