Quick, when you picture a church building, what do you see? A little white Protestant situation with a steeple? An old stone building with stained glass? Or maybe one of those big, bank-looking corporate structures on the outskirts of town. Yeah, churches definitely have a type, and most architects don't stray too far from the formula. Usually.
But every now and then, a church really goes for it. Maybe deliberately. Maybe accidentally. Either way, the result can often be some of the strangest buildings you can ever behold.
We scoured the furthest reaches of the world to find the weirdest church buildings out there. Some of them are well-known monuments. Others are obscure hole-in-the-walls. But all of them either do or have served as a place for Christians to meet for the business of church, whether that be repentance, teaching, celebrating or serving. The mission of the global Church has been the same for thousands of years. But the buildings that mission has taken place in has looked pretty different.
The Church of Hallgrímur —Reykjavík, Iceland

At almost 250 feet, the Church of Hallgrímur is one of Iceland's tallest structures and one of its most famous. It took almost 40 years to build and now serves as a Lutheran parish church.
Las Lajas Cathedral – Colombia, South America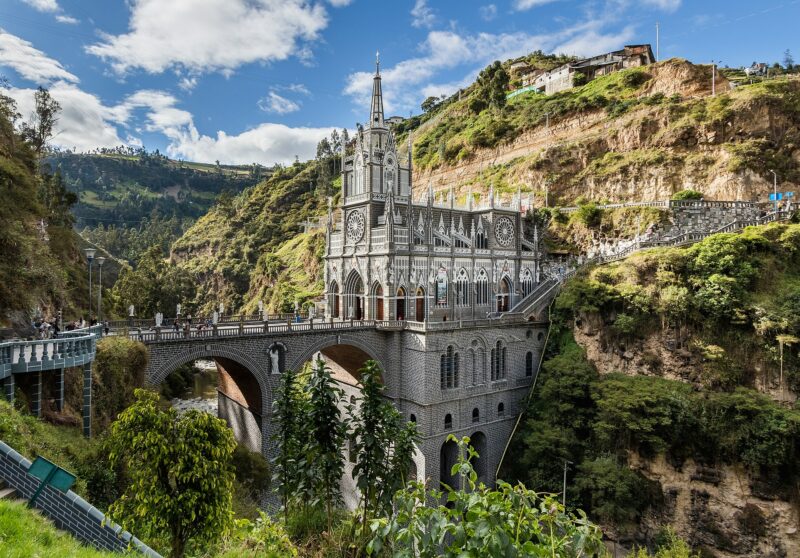 Built in 1916, this Columbian church was built near Ecuador's border after a reported sighting of the Virgin Mary who rescued a woman and her daughter who'd been caught in a storm.
The Church of the Shell — Huntington Beach, California
A very mysterious building purported to be somewhere on Huntington Beach in California, though the internet is scant on details.
Notre Dame du Haut — Ronchamp, France
Known in France as the Ronchamp, the Notre Dame du Haut was designed by celebrated French architect Le Corbusier. Once you hear the roof described as "Elvis hair" you can't unsee it.
Jubilee Church — Rome, Italy
Definitely an unusual building, but the most unique thing about this church is what you can't see: it's an environmental marvel. The unique sails on the side help keep the building cool, minimizing its electric bill. And it's built out of titanium dioxide, a special compound that actually purifies the air around it.
Grace Fellowship Baptist Church — Detroit, Michigan
This building has lived a lot of lives, actually beginning its existence as a celebrated Chinese restaurant. When that went out of business, it started cycling through a few different church congregations before, most recently, ending up as home to Grace Fellowship Baptist.
Basilica de Higuey — Dominican Republic
French architects designed this beautiful building in Higuey, which opened in 1971.
Paraportiani Church — Mykonos, Greece
This gorgeous building on a Greek island actually houses five churches — four on the ground level which all support a fifth that sits on top. That's what you call maximizing your space.
Borgund Stave Church — Lærdal, Norway
Gamers may be familiar with this church building, which shows up in Age of Empires II: The Age of Kings. It's a real place, finished sometime in the 12th century and — in a remarkable testament to the original design — has remained more or less untouched ever since. It served as a church all the way up until 1868, when a new building was commissioned and the Stave Church was turned into a museum.
Cathedral of Brasilia — Brasilia, Brazil
Oscar Niemeyer designed this famous structure, with its 90 ton(!) arms representing hands raising towards Heaven.
Church in a Hill — Luxembourg
Not quite a church building and not quite a hill, the Saint Quirin Chapel — better known as the Church-in-a-Hill — is the nation's oldest church building, having been completed in 1355.
San Francisco de Asis Church — Ranchos de Taos, New Mexico
Completed in 1815 by Franciscans monks, this church building has inspired a wealth of artistic depictions from everyone from Georgia O'Keefe to Ansel Adams. O'Keefe called it "one of the most beautiful buildings left in the United States by the early Spaniards."
Grundtvig's Church — Copenhagen, Denmark
You don't see a lot of expressionist church buildings out there but Grundtvig's Church makes a good case for more of them.
Cathedral of Maringa — Parana, Brazil
South America's tallest church building (over 400 feet high!) was inspired by Soviet Sputnik satellites and completed in 1972.
Salt Cathedral of Zipaquira — Cundinamarca, Colombia
The Salt Cathedral in Colombia has no building. It's a hallowed out salt mine over 600 feet underground, near the city of Zipaquirá. Visitors descend through 14 spaces that represent different stations of the cross before reaching the cathedral itself, which is split into three sections representing the birth, life and death of Jesus.
Trendsetters Church — Phoenix, Arizona
Designed by Pentecostal preacher Neil Frisby, this very "Egyptian tourist" type building was picked as one of the state's "biggest eyesores" by Arizona residents in 2014.
Chapel of the Holy Cross — Sedona, Arizona
In 1932, a rancher and sculptor named Marguerite Brunswig Staude was inspired to design a church after being moved by the architecture of the Empire State Building. She teamed up with Lloyd Wright (son of Frank) to design a church in Budapest, but those plans got put on hold with the outbreak of World War I. She tried again in 1954 in her native Arizona, and the building was completed in 1956.
The Wireman Chapel at Eckerd College — St. Petersburg, Florida
Inspired by the famed Eero Saarinen, the Wireman Chapel's exterior may look slightly like a giant robot spider, but the interior is gorgeous. See for yourself.
Saint-Michel d'Aiguilhe Chapel — Le Puy-en-Velay, France
Take a good look — that's a real volcanic plug this church is built on, right where it's been for 1042 years when it was built on top of an ancient shrine to the Roman god Mercury. It's seen a lot in its time, including (according to legend) serving as a site for Joan of Arc's mother to pray for her daughter.
The Chapel on the Rock — Allenspark, Colorado
In 1916, Monsignor Joseph Bosetti was searching for what he believed to be a fallen meteor and came across a giant rock instead. Inspired by Jesus' words to Peter ("upon this rock, I will build my church"), Bosetti started saving up funds to build his own church there. It took 20 years and a few fights with the Colorado Highway Department who'd been hoping to build a road right through the rock, but Bosetti got his church completed in 1936.
Cadet Chapel — Colorado Springs, Colorado
This design caused a lot of controversy when the chapel was unveiled in 1962, but has gone on to become a staple of the Cadet Area at the United States Air Force Academy and was even named a U.S. National Historic Landmark in 2004.
Thorncrown Chapel — Eureka Springs, Arkansas
This spectacular structure was designed by E. Fay Jones and named the fourth best building of the 20th century by the American Institute of Architects.