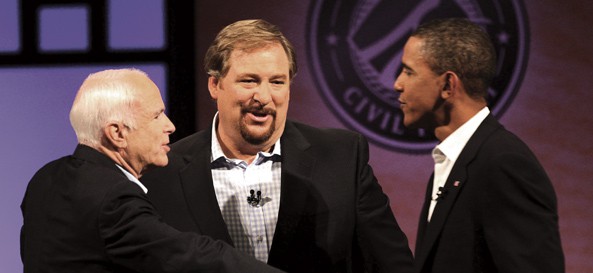 In late 2011, a Baptist pastor in Texas came under fire for comments about Republican presidential nominee Mitt Romney's Mormon faith. Robert Jeffress, senior pastor of the 10,000-member First Baptist Church of Dallas, called Mormonism a cult and suggested Christians should never vote for a political candidate who isn't a Christian. Jeffress also personally endorsed Texas Governor Rick Perry for president in a video later posted on First Baptist Dallas' website—with a disclaimer saying the video represented the views of Jeffress, not necessarily those of the church.
The organization Americans United, a group that reports on violations of the separation of church and state, asked the IRS to investigate Jeffress and First Baptist Dallas for breaking tax rules, which prohibit nonprofit organizations from making endorsements or opposing statements about any candidate.
It's not just the political right that gets pressure from the IRS. In 2004, an Episcopal church in Pasadena, Calif., nearly had its tax-exempt status revoked after its pastor preached a sermon condemning the war in Iraq. But this newest incident once again raises important questions about what a church can and can't—and, perhaps more importantly, should and shouldn't—say about politics, especially during an election year.
Most Christians take it for granted that faithful believers can disagree about politics. But there are some issues—like justice, rights for the unborn, care for the environment—that belong in the ballot box and the pulpit. The question is how pastors can address them without running afoul of IRS rules. As the 2012 election season begins, it will again require thoughtful speech and discernment as Christians seek to live in the tension of faithful living and faithful citizenship.
Click here to discuss how candidates' faith affects politics.