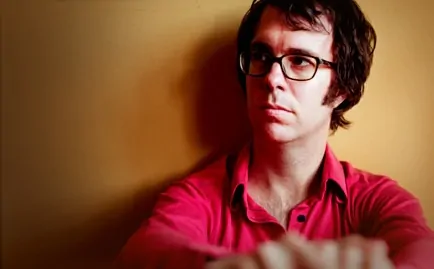 We talk to the singer about everything from his lyrics to an acid-trip conversion.

"Can you hear the dog?" Ben Folds asks, laughing. Just to make sure, he holds the phone up to the panting canine's mouth. I can indeed hear the dog. Folds is currently in a car with his manager, his bass player and a large Golden Retriever. It's not his dog, either. While walking home during our interview, he spotted it running down the sidewalk and darting perilously close to traffic. He called some friends to help him corral the animal, and now they are driving around Nashville looking for its home. At this point, needless to say, our interview has been interrupted a couple of times.
This fits right in with Folds' personality. He is a homebody who rarely strays more than a few blocks from his house in Nashville, who frequents the same two coffee shops, and who has made a career of being the antithesis of a rock star. He is a 42-year-old suburban husband and father who will always be more concerned with the fate of stray dogs than with impressing interviewers. Yet, atypical or not, he is a rock star. His legendary, energetic concerts keep audiences in rapt attention, as Folds walks on his piano, hits the keyboard with his stool and gives it other kinds of rock 'n' roll level abuse. At one point in his career, he would even dive off speakers onto it.
Yet, Folds' over-the-top stage persona is rooted in a down-to-earth personal life. Though he maintains his fun-loving demeanor, he is no longer the clownish piano punk rocker of his youth. He has something to say.
One of the most noteworthy songs on his album Songs for Silverman is "Jesusland." The track finds Folds touring through middle America, appalled by the amassing of wealth and the use of Jesus' name to push consumerism. In one line of the song, he laments, Town to town/broadcast to each house/they drop your name but no one knows your face/Billboards quoting things you'd never say/You hang your head and pray for Jesusland.
I ask him if modern-day misconceptions of Jesus bother him. "I think it's one thing to misquote somebody, but it's another thing to completely stand diametrically opposed to what someone taught and then use it to make money," he says. Folds believes that if Jesus walked through America today, He would likely be shunned by many of the people who preach His name.
"The people who are preaching Jesus don't approve of longhaired homeless people, people with no possessions," he says. "It's not considered a good thing." I mention to him how much Christians in their 20s seem to have latched on to the song, making it their own, finding some kind of solidarity in its message. Did he expect it to find that kind of audience? "It's just something I felt, and when you write what you feel, people connect," Folds says. "It came from touring and looking out the window, and whether you are religious or not, there is a religious experience of seeing a beautiful sight. To just continue to cover this beautiful sight with loads and loads of billboards and condos and trash, and then using the Jesus brand to sell it is just kind of sad.
"It does no good for the teachings of a great man to put it across billboards and political campaigns," Folds says. He believes that the use of Jesus as a brand to sell products and promote patriotism works at cross purposes with Jesus' message. "If that's your first exposure to a great man, it's a negative exposure."
Folds insists, though, that his primary purpose of the song was not to make a political or theological statement. His songs come from a place of emotion rather than policy. "It's not as much about making a statement," he says. "It's more about how I feel." But he is willing to ruminate a bit on the way he feels politics have become embroiled in faith. "Just using the name Jesus these days implies for some weird reason that we are talking about politics. Last I remembered those were two separate issues. There's politics and then there's religion, and to some extent they have to live in each other's back yards, but I think everyone agrees that the two are overly linked at this point. They're uncomfortably linked. "
Telling Stories
Listening to Folds' music, one cannot help but be struck by the stories he tells and the characters he creates. It is hard to think of Ben Folds without thinking of names like Fred Jones, Alice Childress, Zak and Sara. Why does he create such elaborate characters? "I think it's disarming and effective," he says. "It's refreshing for me not to be going, 'I, I, I,' all the time."
However, he often finds that fans expect these stories to be true and imagine some kind of association between Folds and the characters in his songs. There is an obsession in America with delving into the meaning and background of lyrics, Folds says. "People are definitely interested in the autobiography of songwriting, especially in the U.S.," he says. "It's different in other places, like the U.K. and Australia. It's kind of expected to be a character. I mean, David Bowie didn't really go to Mars, but everyone's OK with him singing about it."
American songwriters, Folds says, are held to a different expectation. "Bruce Springsteen can't say that he went to Mars because he is faking it. The guy's got no Mars cred! But, did he have to go to Mars? It is going to get his point across better if the listener is disarmed by something. That's what happens in life. If you just sit there playing a big minor chord and say, 'I am sad,' that's not the way life works. We try to make songs about life even if you are singing about Mars."
I ask Folds how he feels about having fans reinterpret his lyrics in ways he may not have intended. "You never know what it's going to mean for someone," Folds says.
"You spend all this time crafting a song and finding outw hat it means to you, and then someone will take one line, and in the context of their life it's going to mean something different, and it's going to be pretty cool. If you get too serious about your art, your response can end up being, 'No! I meant that, not something else.'"
Is he comfortable with the idea of people misconstruing his message? "You have to get comfortable with that, because once you let it out, that's what it is. Some songs you have a very specific agenda with can mean something completely different to some person. What can we do about it? You can't worry about it."
---
Melodic Filth
Regardless of how fans choose to interpret them, Folds' songs do seem to make their point. Often he does so by using the dichotomy of profane lyrics set to a beautiful melody. It's a game Folds has played since he was a teenager, when he would write haunting piano tunes and try to work in the most profane words possible, just to see if listeners would notice. Folds admits that part of that mischievous teenager still lives in his songwriting. "I think it's interesting to put people's brains and hearts in odd places," he says. "It does something for me."
This approach seems especially evident in Folds' expletive-laden cover of a Dr. Dre song, the very title of which is so profane it's unprintable. I jokingly assert that the Dr. Dre cover can take on a spiritual feeling when put to a nice melody. He answers, in utter seriousness, "Yeah, actually for us too when we did that. Obviously we thought it was funny too, but also we were really going for a feeling. This is stuff that is said on the radio. It's bleeped out, but everyone knows what they're saying. It's sold millions of records. These kinds of messages, why is it OK and why can someone write off a gangster rapper when he is saying those things? And then, here is a white boy who sings it with a pretty melody, and they go, 'Wait a minute, what is he saying?' I could almost see making a career out of that sort of behavior."
Perhaps this is partially why Folds writes such tight melodies. It draws attention to his lyrics and the dichotomy they often present. It achieves his goal and puts people's brains and hearts in odd places. "You take it more seriously when someone is singing a coherent melody," Folds says. "One of those things that I have found in my melodic songwriting is that it makes you listen to the words. It's a pain because I envy writers who can sing whatever because no one notices or cares. But I really feel that I can't get away with a couple crap lines with whatever I am doing."
In drawing people to his lyrics and telling emotional tales, Folds deals with the feelings that surround hotbutton issues rather than trying to make a polarizing social statement. This kind of raw emotion seems to transcend people's stances on political topics. One such song is his seminal hit "Brick." The song deals with an experience Folds had as a teenager, taking his then-girlfriend to get an abortion. Rather than making an assertion about the issue or offering an opinion, the song connects on an emotional level, describing the pain and sorrow associated with the decision Folds and his girlfriend made at such a young age.
"I think a lot of people didn't know what that song was about at all, and I think that's fine," Folds says. "It wasn't really written for them. It was for someone who had been through the experience, and we realized that when we started to get lots of mail from people who had been in the same situation saying how they had connected with the song. If I had put out the word, 'Here is a political statement about this and this,' then they would have felt that they had to go straight to their politically driven emotions." It seems he's given people a common emotional outlet, regardless of their views on the subject. "That's what I want to do," he says. "I'm going for it, and if that ever happens, then good."
Another of Folds' stories with which fans have deeply connected is a song called "Not the Same." The song tells of a friend who converts to Christianity and is not the same person. "The story is a true one," Folds says. "It was a high-school friend of Darren Jessee, my old drummer, who had taken an acid trip, went up a tree, stayed there all night long and came down and was born again, basically. There is something really ironic about that, but at the same time it makes sense, too."
Folds refers to a cryptic line in the song. "Everyone asks about the line someone died on the water slide," he says. "That was a reference to a local TV evangelist who built a water slide in my hometown, and a kid died. I thought, this guy shouldn't be in the water slide business. He's in the preaching business. Once your ego gets bigger and you take on more and more responsibility, you have to take responsibility for things like that. So someone died on his water slide. I thought he wasn't the same after all that. That's what I was referring to. Sometimes I think that these songs mean more to me, but at the same time they are open songs for other people too."
This is the musical legacy Ben Folds is creating. His thoughtful lyrics and imaginative stories connect with people on a deep level. He manages to simultaneously be a part of rock music and lampoon it. And, through all this, he still finds the time to rescue the occasional errant dog.