'Crazy Rich Asians' Is the Party of the Year, and You're Invited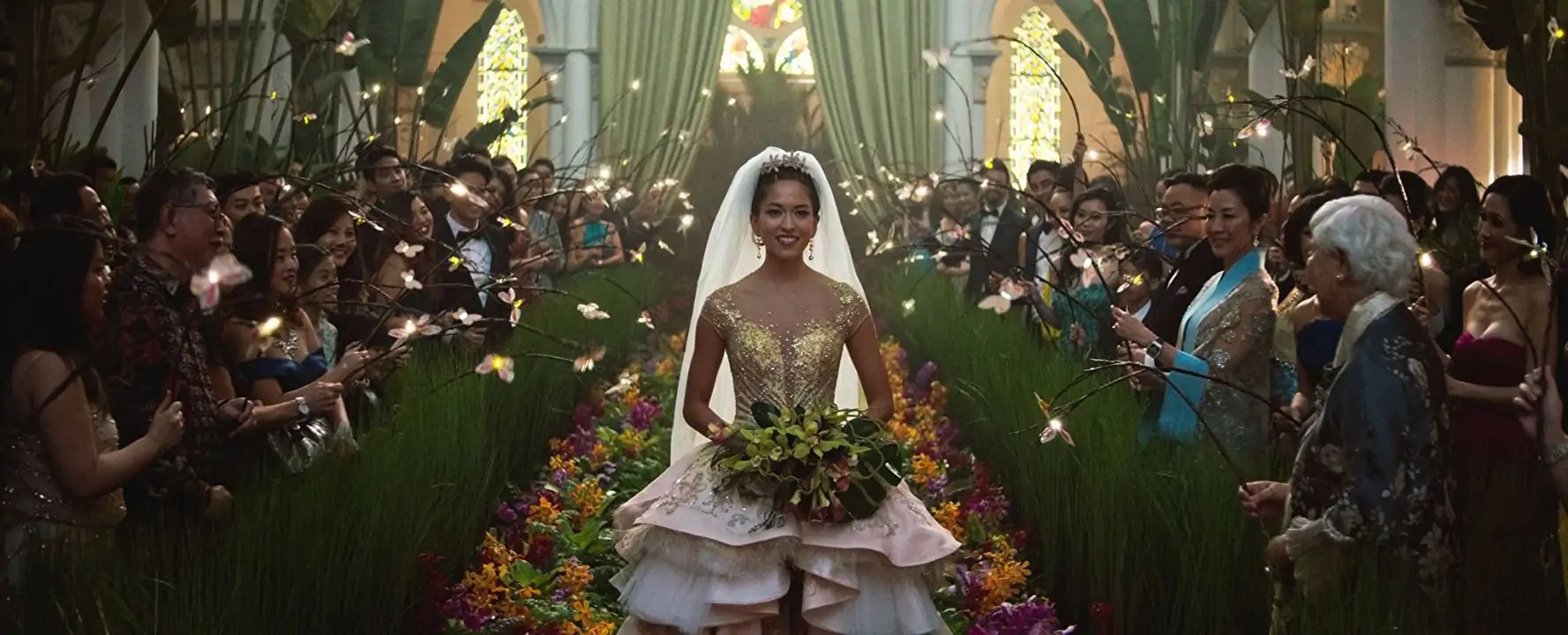 Crazy Rich Asians is one of the most purely pleasurable movies of the year. It's like if you schmeared a little extra sauce on your favorite fast-casual burger and allowed yourself as many rich, juicy, gooey-cheesed bites as you wanted. Maybe it's not particularly well-crafted or "gourmet," so to speak, but who cares? This is an indulgent experience. We'd be lucky to have a romantic comedy this satisfying every summer.
Based on the same-titled book by Kevin Kwan, Crazy Rich Asians follows Rachel Chu (played by an assured and affable Constance Wu) as she travels to Singapore with her boyfriend Nick (Henry Golding, easy and charming) to meet his family. The twist you know from the outset: Nick's family is one of the richest in all of Singapore, so tensions are quick to emerge between Rachel's American-made idealism and the rigid traditions of Nick's parentage.
Culturally, it bears repeating that Crazy Rich Asians is one of the most important movies of 2018: This is the first Hollywood flick since 1993's The Joy Luck Club to feature Asian actors in the leading roles. That's a quarter-century gap, so from a standpoint of popular culture, this movie is worth spending money on both for its on-paper representation and on-screen representation. That being said, if pandering is your concern, put those fears to rest: This isn't a Black Panther-inspired cash grab from an exploitative studio. This is a unique story that would be quite different if it featured another demographic.
Even though Crazy Rich Asians falls well within the tried-and-true romantic-comedy mold, with its second-act sabotages and third-act doubts, those familiar beats are wrapped in a distinct package wholly original to these characters. Conflicts emerge in Crazy Rich Asians out of real-world tensions, things like assimilation and immigration, traditional family structure and single parenthood and earned wealth versus inherited privilege. In simpler words: It matters that this story centers on Asian characters. Without them, there wouldn't be a story.
Ultimately though, these richer ideas lie deep beneath one of the breeziest, most accessible flicks of the year. Crazy Rich Asians loves being a movie, and its giddiness is all over the screen. If you're worried a movie with "crazy" and "rich" right there in the title might skimp on the locales and glamour, worry not. The montages in Crazy Rich Asians are laden with style, displaying decadent food, lavish homes and glitzy club rooftops with unabashed enthusiasm. Everything is maximal, from the rings to the hotels to the fashion to the myriad establishing shots of cityscapes and paradises.
There's a version of that extravagant overtone that feels hacky—like product placement—but that's not the case here. Crazy Rich Asians is classy about its opulence. Really, it's all just beautiful. A wedding scene in particular is breathtaking in its visual splendor, but what could have easily been camera-clogging schlock is also important to the story, as the stunning setting compels two characters to express deeper feelings of devotion toward one another. Watching, you want to mouth the words with them. This movie will have you in the palm of its hand.
Speaking of which, supporting star Awkwafina is so strong in Crazy Rich Asians she deserves her own paragraph. The rapper and TV actor is a force of pure magnetism in this movie. She has nine of the 10 best lines, but also the best wardrobe by far and a charisma unrivaled by anyone in this nonetheless talented and capable cast. Ocean's 8 gave us flashes of Awkwafina's inevitability earlier this year, but even if you enjoyed her there, she's about to exceed your expectations. She has the kind of jokes you say to yourself later and laugh all over again. Put her in more movies, please and thank you.
And that's the pre-eminent feeling across the board with Crazy Rich Asians. It's such a gleeful experience you hope it sets a precedent for more diverse storytelling in Hollywood. This movie doesn't have to strive to become a Black Panther-like cultural event to justify itself. There isn't a strong message here about race or identity—those are undertones, if anything—and that's totally OK. Crazy Rich Asians has ambitions to be a good romantic comedy. It is, and that's plenty.
What should persist from here, furthermore, is Crazy Rich Asians' celebratory mood and tonal commitment to unbridled fun. Movies this important should aspire more often to this level of enjoyability because when there aren't a ton of cinematic velvet ropes to duck under—less artsy pretensions and thematic preachiness—more people end up in the theater. For as accessible as Crazy Rich Asians is, it still feels like one of the ritziest, most exclusive parties of the year. The best part? Everyone is invited.
Tyler Daswick
Tyler Daswick is a senior writer at Relevant. Follow him on Twitter @tylerdaswick.