Study: Young White Evangelicals Are Way Less Likely to Wear a Mask
Over at Christianity Today, Ryan Burge has put together an interesting look at how Christians are reacting to ongoing concerns about COVID-19, as the pandemic continues to roll through the United States and picks up steam in many parts of the country. Generally speaking, white evangelicals are getting less concerned about the pandemic at faster rate than the average American is but are nevertheless continuing to abide by social distancing guidelines. That said, younger white evangelicals are far behind their peers in one area: masks.
According to Burge's analysis of a Data for Progress survey, white evangelicals under 35 are thirteen percent less likely to wear a mask in public than those under 35 in the general population. 58.7 percent of white evangelicals under 35 say they wear a mask, compared to 71.8 percent of their peers.
Back in April, white evangelicals had more or less the same level of concern about COVID-19 as the general population did: 74 percent of the larger population said they were either somewhat or very worried about the virus, compared to about 73 percent of white evangelicals. But by June, the gap had widened. Now, about 64 percent of the general population is still either somewhat or very worried, compared to just 55 percent of white evangelicals.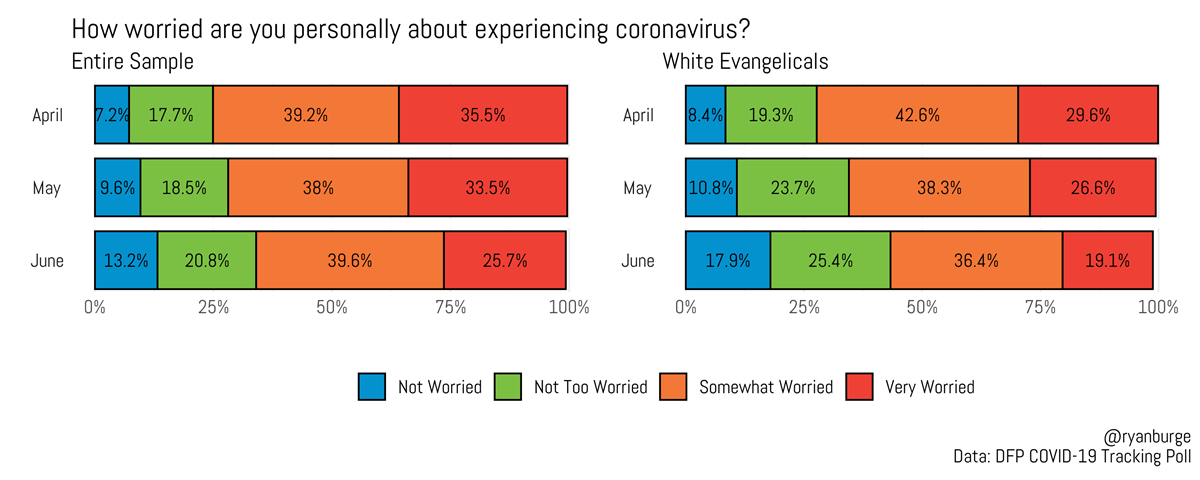 That said, white evangelicals are generally sticking to social distancing guidelines at about the same rate as the general public, avoiding crowded places and unnecessarily touching others. This is smart, as data shows that COVID-19 infection rates are continuing to rise in much of the country as states cautiously test fate by re-opening businesses, often inviting a second wave of the virus as they do so.