How Netflix Makes A More Soulful Type of Food Show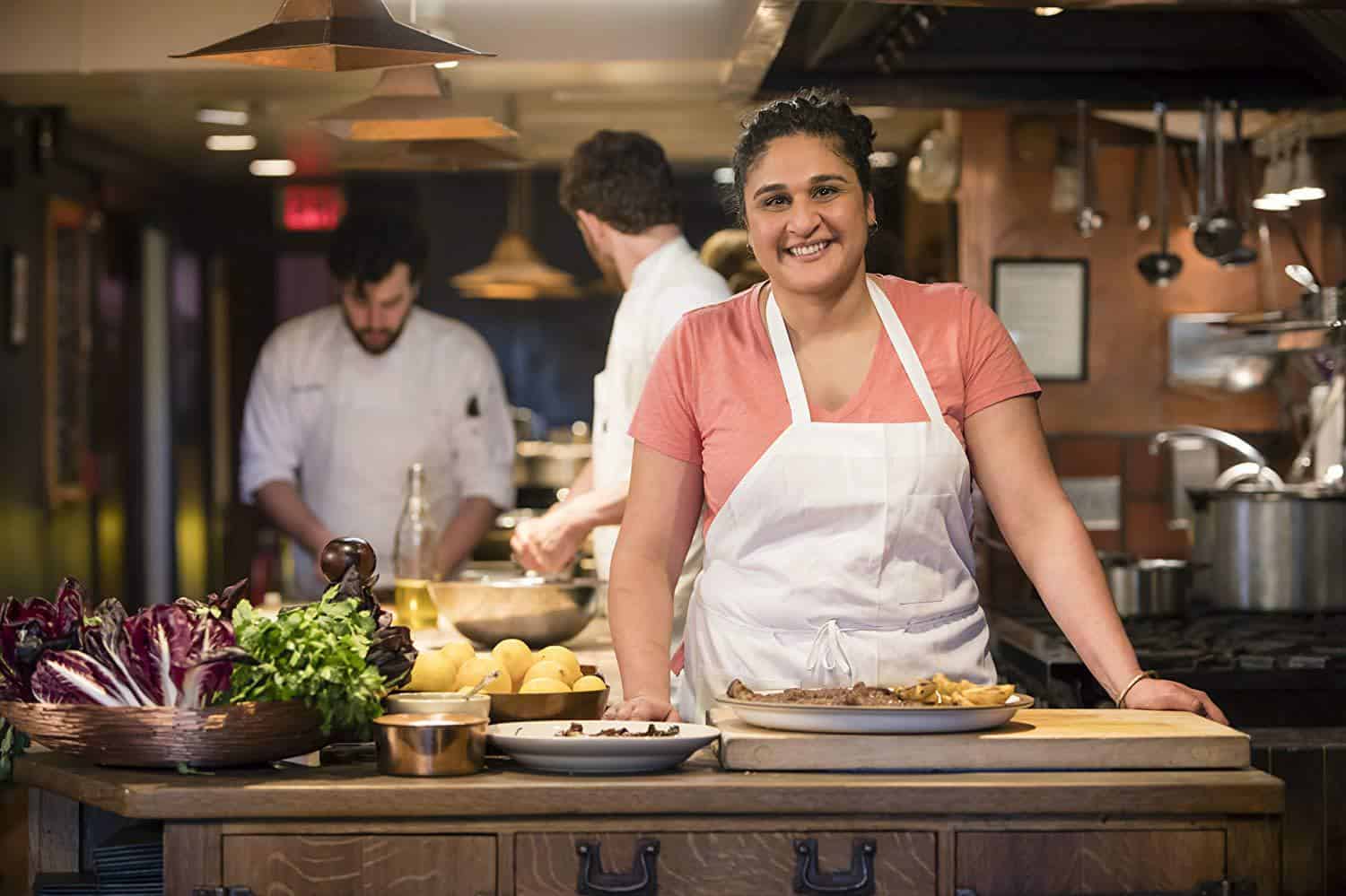 The value of food television has never been practical, because pure cooking shows aim to teach you skills in the kitchen, and heaven can wait if you're going to actually buy a deep fryer or perfect that lattice crust. Really, the pleasures of a food show have always come from simple entertainment, and when places like Food Network realized that, their programming became less refined and more competitive. Netflix, however, followed a different recipe. It's not back-to-basics, but it taps right into the heart of food.
About 10 years ago, primetime on Food Network was dominated by two shows. The first was Emeril Live, a culinary demonstration from chef Emeril Lagasse jazzed up to carry the feel of The Tonight Show. Emeril cracked jokes, dealt catchphrases, gave monologues and threw things over to his house band before every commercial break. It was fun, but it was really a kitchen show in the tradition of Tyler's Ultimate with Tyler Florence or Rachael Ray's 30-Minute Meals. The only different ingredients: budget, presentation and a live audience.
The other show dominating Food Network's primetime was Iron Chef America. A food competition derived from Japanese TV, Iron Chef America pits a much-touted Iron Chef against an up-and-coming chef or restauranteur. The two cooks use a secret ingredient to create five unique dishes, which are scored by guest judges to determine a winner.
Iron Chef America is still terrific. Food Network icon and culinary encyclopedia Alton Brown delivers commentary and trivia during the battle, and everyone from the judges to the chefs to even the sous chefs carries a lot of clout. America is elite-feeling, but it's also great television. Maybe too great.
As Food Network entered the 2010s, it moved further from things like Emeril Live model and closer to the quickfire chaos of Iron Chef America. Other competitions, like Food Network Star (the channel's American Idol), The Great Food Truck Race (Amazing Race) and Chopped (actually, Chopped is pretty original and fantastic) emerged, and now, Food Network's primetime barely resembles cooking.
There are some gems in this realm of programming. Chopped is excellent, and Cupcake Wars had its moment, but in 2018, the reality side of Food Network feels hackey. Cutthroat Kitchen, Guy's Grocery Games, Worst Cooks In America and Beat Bobby Flay are all edible, but alongside offerings like Bravo's Top Chef or Fox's MasterChef (don't forget about MasterChef Junior!), they look like backyard burgers next to a couple ribeyes. At best, these shows are highly-processed snacks that, no matter how much you munch, just won't fill you up.
While some decry this "decline" in Food Network (really, they're doing fine), an unlikely upstart has appeared on the block: Netflix. Once the place to watch bingeable dramas like House of Cards and Orange Is the New Black, Netflix has broadened its menu to offer a wide slate of unscripted television, including food shows. The biggest surprise: Food TV seems to be the premium portion of the streaming service's menu. These recipes are killer.
On the most expensive page of the menu is Chef's Table, an hour-long documentary series profiling the best chefs in the world. It's a bit highfalutin, but you'd be hard-pressed to find something more beautiful, evocative and sensory in the genre. Each episode is like a bite of molten lava cake: decadent and enveloping and luscious and almost too much until, oh, just one more bite.
Tone down the luxury and you run into Netflix's more travel-centric food shows, like Ugly Delicious, Somebody Feed Phil and the recent Salt Fat Acid Heat. In the style of the late Anthony Bourdain's Parts Unknown (which Netflix streams as well), these programs follow cosmopolitan, philosophical chefs as they express their food point of view through travel. Well-shot, exotic and aspirational, these shows are above all cultural ambassadors. More on that later.
See Also
Finally, on the fast-casual side of Netflix, you have competition shows like Great British Baking Show and Nailed It, but these are competitions in the way Candyland is a competition: There's no real danger here, just frosting and delicate sponge.
This is where we find the most straightforward comparison between how Netflix approaches food programming in relation to Food Network. While the latter dials up the antagonism, Netflix steers away from it. Great British Baking Show garnered international attention for its lack of competitiveness—the contestants help each other finish the challenges and cry during eliminations, and the show doesn't even offer a prize to the winner—and Nailed It is one of the most charming celebrations of failure you can find in reality TV. Both shows are enthusiastic about amateurism, something that Cutthroat Kitchen or Chopped would deem grounds for elimination.
The theme here tying Netflix's food shows together is the idea that food is a unifier. On Baking Show and Nailed It, the ways we try to innovate and experiment with ingredients is brought to the forefront, and that makes each program as much about ingenuity and inventiveness as they are about delicious cakes and pies.
Go one tier up, and the unification of food becomes more explicit on those travel-centric shows. Literally, the function of food on Salt Fat Acid Heat and Ugly Delicious is to join the host of the show with chefs, cooks, food writers and professionals around the world. In watching Dave Chang travel to Italy to taste some of the finest (and simplest) (and most accessible) pizza in the world, or Samin Nosrat learn how Japanese fishermen harvest salt from Pacific seaweed, food becomes more than the thing that comes out "good" or "bad" or "in need of more salt" from your kitchen. Rather, it communicates personal and cultural history, bridges opposite perspectives and allows people to share something amid their difference. On these Netflix shows, food becomes something powerful enough to make positive change instead of an obstacle blocking someone's dreams of $10,000.
If a food show isn't going to make you a better cook (in essence, empowering you to bring different people to your table), it should provoke you to engage with the stories of others. That's what food is about, and whether it's Chef's Table or Nailed It, Netflix's programming excels at inviting viewers to the table. While the rest of food television turns up the heat, Netflix is aiming for a richer flavor profile. These dishes carry more depth, and they're better for your heart.
Tyler Daswick
Tyler Daswick is a senior writer at Relevant. Follow him on Twitter @tylerdaswick.