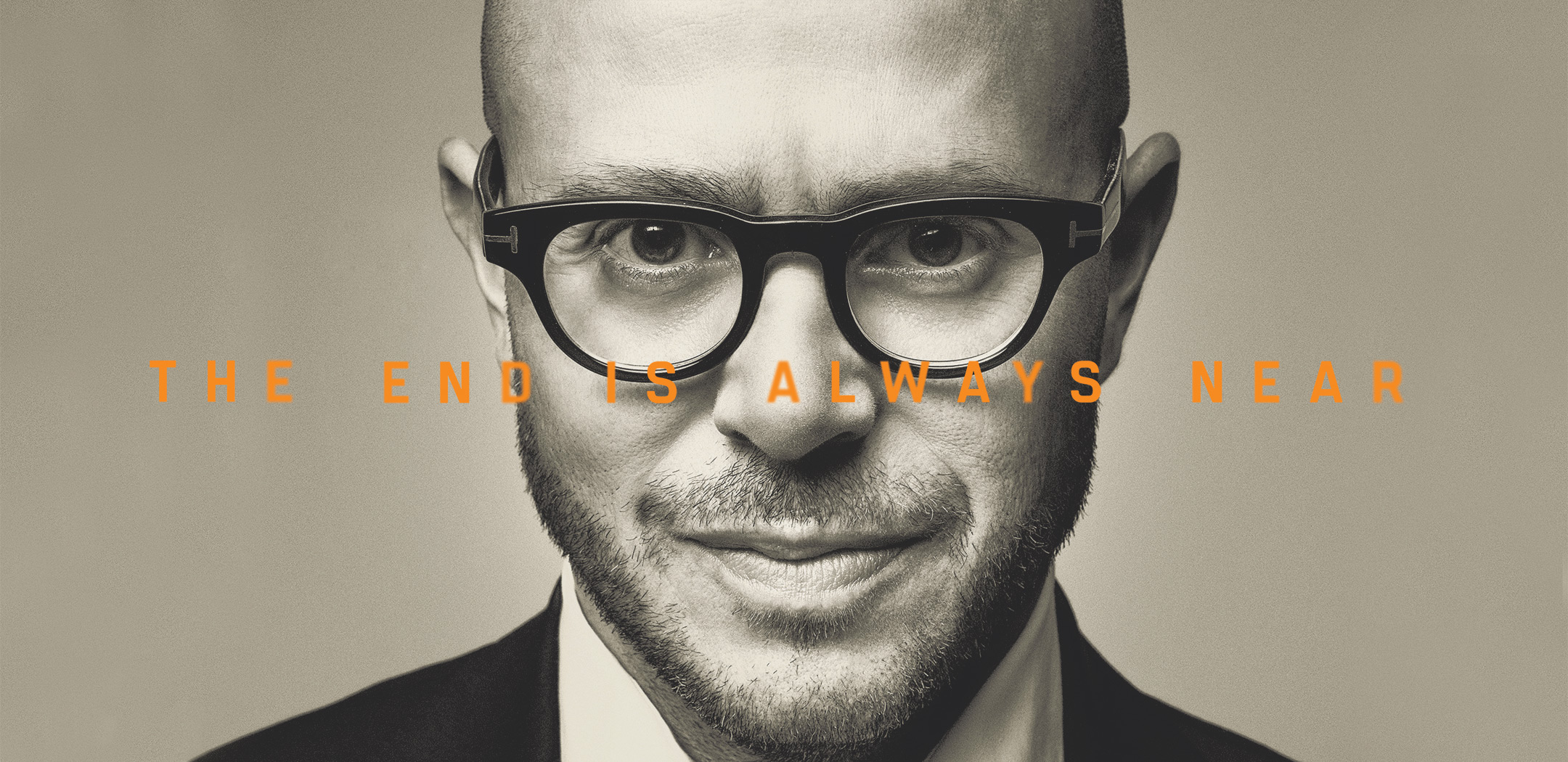 Inside the church building, up front and just to the right of the pulpit, stands a chalkboard. And on that board the church's pastor has written a date. The chalkboard declares the world's end.
This church, with a tall white steeple and matching siding, looms at the far end of a Quaker-looking village, sometime in the mid-1800s. A family—mom, dad and young son—sits weekly in the pews, listening to sermons about the date on the chalkboard and trading glad, anticipatory grins as they prepare for the end.
But the date comes and goes.
There's a reason, of course, one the pastor quickly identifies; he amends the date. Once again, this Millerite family sits in church, this time with renewed confidence that soon, very soon, the prophecy will prove true.
But the date comes and goes, again. Then again. And again.
The series of unfulfilled prophecies pulls at that family. After two or three dates pass, the father grows skeptical. In time, he takes the young son and leaves. The mother remains faithful, even at the cost of her family. Still, there's no grin or even anticipation on her face anymore, only desperation.
This village is where the third and final season of HBO's award-winning The Leftovers begins. It's about a 10-minute vignette set in an entirely different world from the show's modern-day context.
In a way, the Millerite family in the 19th-century town serves as a microcosm of the entire series: The whole thing ostensibly orbits a vague, supernatural event—one that defines each character's setting, circumstances and relationships. But don't let the event(s) distract you.
The point of this aside, and the question at the heart of The Leftovers, is grief after loss—whether it's loss of family, belief or hope—particularly when the loss doesn't make sense.
***
"What happens when the world doesn't end and you put all your eggs in that basket?" asks Damon Lindelof, the writer and co-creator of The Leftovers. "Does that shatter your faith or does that cause you to double down? That felt like a very interesting emotional and religious parable to start the entire season off with."
The Leftovers show, like the Tom Perrotta novel, centers around an event called the "sudden departure." This immediately, for Christian watchers, recalls the idea of a rapture, the endlessly speculated moment when many believe Jesus Christ will pull His followers out of earth up into heaven and initiate the multi-year—1,000 years?—apocalyptic end of the world.
The Leftovers doesn't shy away from this idea, per se, and you can fairly think about the show as a grittier, HBO-appropriate version of Left Behind. Except this rapture—the sudden departure—remains ambiguous: All the characters learn is that around 2 percent of the world's population, with no distinguishable connection (including religion), simply vanish.
This lack of closure keeps wounds from healing, and it drives the show's tension.
"Organized religion takes a lot of heat, but they have these amazing constructs for grieving cycles," says Lindelof, who last year won a Peabody Award for his creative work on the show. "But they all have sort of a definitive end. Because of [the sudden departure], because these people aren't dead they're just gone, there is no natural endpoint for their grief."
***
If his name sounds familiar, that's because Lindelof isn't new to TV. Back in 2004, he created a show with producer-director J.J. Abrams that, like probably no show before it, captured the attention of TV-watchers everywhere. That show was Lost.
"I never dreamed in my wildest dreams that I would be a part of creating something that tapped into the zeitgeist in the way that show did at its peak," Lindelof says. "I was so terrified by the magnitude and responsibility of the work I wasn't really able to appreciate the fact people were really digging it while it was on."
Whether he dreamed it or not, in the era of TV before Mad Men, Breaking Bad or The Walking Dead, Lost stood out. Its intriguing collection of characters and complex—which is putting it nicely—story created a cultural phenomenon. Inextricable for Lost's success are the themes that weaved in and out of every episode: a higher power, supernatural forces both good and evil and a redeemer-savior.
That Lindelof sat at the center of Lost and now The Leftovers is no coincidence. In fact, the more you learn about him, the more cohesive his works appear.
His writing interests, from the very beginning, aimed more for screens than pages. Largely this comes from the writing he enjoyed as a kid.
The first writer with whom Lindelof was "deeply enamored" was Stephen King, and he's read all of King's novels multiple times. And then there was Charles Dickens.
"[Dickens] was fascinating, because he wrote over a century ago, but I felt like the stories were super compelling," Lindelof says. "He was amazing at twists and coincidence and cliffhangers. He was writing TV before there was TV."
Lindelof has been a fan of Tom Perrotta's novels for years—and it's no surprise his books Election and Little Children were adapted into successful films.
So when Stephen King wrote in The New York Times that Perotta's The Leftovers was "the greatest episode of The Twilight Zone that had never been filmed," Lindelof, who at the time hadn't read this particular Perotta novel, was "immediately intrigued." 
"I was really moved by it emotionally," Lindelof says. "And then I was like, this feels like it's a world large enough to contain a television show versus just doing it as a movie."
Lindelof found out HBO already controlled the rights to the story. The project wasn't moving forward because Perotta wanted to be involved in any adaptation, but the network worried about his lack of TV experience. In short, HBO executives needed an experienced showrunner to partner with Perotta. And just like that, Lindelof began creating.
"I was really captivated by the idea the show centered around a mystery that never was going to be answered," he says. "And that this show was about living in a world without resolution—versus Lost, which was very much built around questions the show had to answer.
"I just loved that The Leftovers is like all these people disappeared, you're never going to find out why or why them, and how do you live your life in that environment? I was just really catalyzed by that, and the metaphysical and religious, both text and subtext, were really fascinating to me."
***
The lack of resolution presented in The Leftovers intrigued Lindelof, but what really "moved" him in the novel was the "inevitability in life is death."
"I'm 43 years old now, and that's right at the point in life you start attending just as many christenings as funerals," he says. "I've now seen the grand layout of life. I lost my own father; I am a father … I'm really curious about what I'm supposed to do while I'm here on the planet, and I'm really curious about whether or not this is it. I want to explore that curiosity in the stories that I tell, and I want those stories to be populated by characters who are preoccupied by those ideas.
"Because it's very profound, death: It's the most emotionally intense experience. I had the occasion to be present when my son was born, and I was also in the room when my father died. Those events were equally profound and stunning and amazing. I don't know how I write about anything other than these two things ever again."
***
The Leftovers' sudden departure recalls the specific feature of some Christian circles called a premillennial rapture. While the best-selling Left Behind novels introduced this concept into 21st-century mainstream culture, the concept is central to the theological framework known as dispensationalism.
Not exactly the idea you'd expect to attract the attention of a sci-fi writer who grew up in a "culturally Jewish" half-Lutheran, half-atheist home.
"I went to Hebrew school and was Bar Mitzvah'ed, but not really ever a believer in the strictest sense of the word," Lindelof says. "But I obviously had a lot of instruction on the Old Testament. I was always fascinated by Bible stories in terms of, was I supposed to take these things literally—Was there actually a flood? Was there an Abraham and Isaac? Did Moses actually part the Red Sea? Or were these things more parables?
"As I grew older, as I began to go out into the world and read and experience people who had different religious upbringings than I did, I became fascinated by Christianity and the same questions."
In Lindelof's view, the Jewish faith didn't take the stories in the Old Testament literally. The stories represented parables of some sort. He was never supposed to think an actual whale swallowed an actual Jonah.
"But the Christians I encountered believed that everything that happened in the New Testament was to be taken literally," he says. "That was a fascinating process for me. So I've always kind of known about the idea of the rapture, certainly as popularized by the Left Behind series and then every once in a while one of these doomsday prophets coming forward and saying, 'The end of the world is nigh.'"
Though Lindelof has never been convinced of a particular religion for himself, he's widely attracted to the idea. When he first met his now-wife, she was a practicing Catholic and Lindelof would go with her to mass.
As time progressed—which Lindelof describes as "that particular thing that happens in the coasts … if you live in L.A, or New York"—he started to define himself more as a "spiritual being" rather than a part of a religious tradition. The rub, for him, is the parts of "every religion based on exclusion or superiority."
"My issue with Judaism was always the idea that there was a chosenness attached, where it's sort of like 'We are the only ones who have it right,'" Lindelof explains. "The longer you spend inside the Catholic community, the more there is the same idea, which is, 'We welcome you as long as you know this is the only one, true way.'
"I think that we're much more comfortable living in a space of, 'Hey religion can be a wonderful thing and if it works for you then great.' But the minute that you start telling me my belief system is flawed, it's hard for me to listen to you much longer."
If you pay attention, you can't help but see how Lindelof's own ideas—you could say his theology—mirrors the Millerite woman who opens the third season of The Leftovers. No, he's never been part of a cult, but his story does include the journey from Bible stories and Stephen King novels to the birth of a son, the loss of a father and a hovering awareness of the incompleteness of solitary worldviews. 
In many ways, this is the bridge from Lost to The Leftovers. Both mysterious and eerie, the former retains a black-and-white orthodoxy, the latter a chalkier hope amid circumstances no one fully understands. Both face the same questions head-on: One holds a framework for loss and grief and redemption; the other leaves you wondering, as Lindelof says, if this world is all there is.