COVID-19 Death Toll Expected To Hit 20,000 Today
The worldwide COVID-19 death toll is expected to hit 20,000 today, a grim milestone all the more shocking for how quickly it's come. As Baltimore physician and activist Kashif Chaudhry notes, the first 10,000 deaths took 60 days. The next 10,000 deaths took just 10. That's the sort of exponential climb pandemic experts have been warning about, and the reason there has been so much focus on "flattening the curve" — slowing the spread of the disease enough for doctors and other healthcare professionals to have a fighting chance.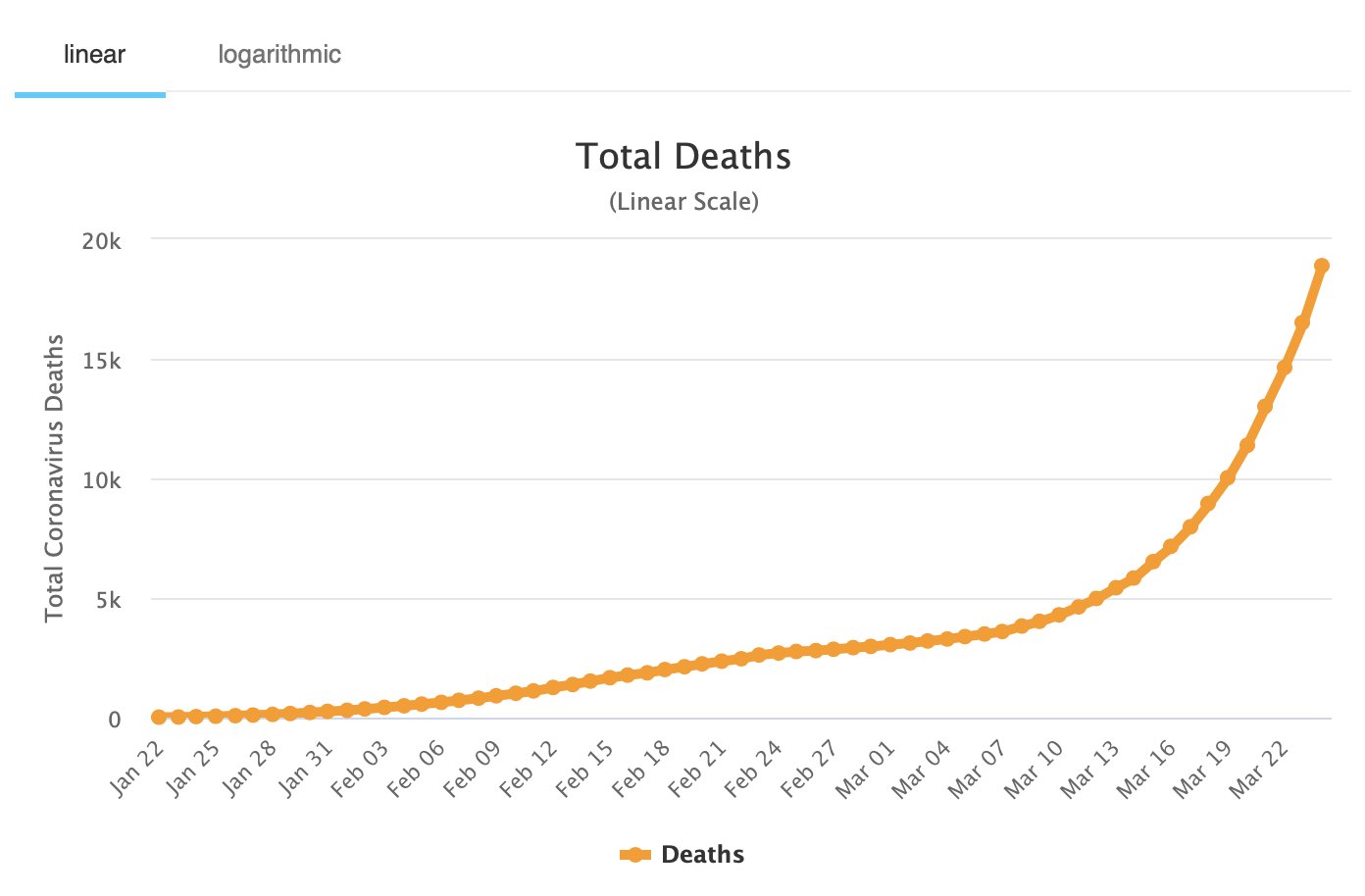 In the U.S., New York is being treated as a "hot zone" and the White House's coronavirus response coordinator Dr. Deborah Birx said anyone who had recently been in the state should self-quarantine for the next two weeks. "Everybody who was in New York should be self-quarantining for the next 14 days to ensure the virus doesn't spread to others no matter where they have gone, whether it's Florida, North Carolina or out to far reaches of Long Island," she said.
Birx said as much as 60 percent of the country's cases came from the New York metro area.
On Tuesday night, the White House and the Senate reached an agreement for an unprecedented, bipartisan $2 trillion stimulus package in an attempt to keep the economy afloat while the world is on lockdown. While the full details have yet to be released, the plan involves $250 billion for direct payments to individuals and families with another $350 billion in small business loans, $250 billion in unemployment insurance benefits and $500 billion in loans for distressed companies, according to CNN.
The plan will include direct infusions of cash for most Americans. People who earn $75,000 in adjusted gross income or less will get direct payments of $1,200 each, while married couples earning up to $150,000 will receive $2,400. Families will receive an additional $500 for each child in the household. Individuals and families making more money will receive less cash, and individuals making $99,000 or more and couples making $198,000 or more will not receive any. (Note, the final bill has not yet been released).
A vote is expected later today, but both Republican and Democratic leaders have expressed optimism that it will pass.