Weekly News Roundup: May 11-15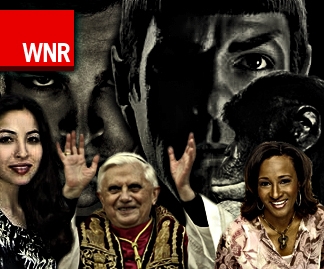 The second week of May was a particularly political one. With a comedian sucking the laughter out of Washington, an administration making some controversial decisions and the pope showing solidarity with Palestinians, it's sure to get some pundits up in arms. All these stories and more defined the second week of May.
Monkeys Are Capable of Regret
Another terrifying news item about monkeys. Heed our word, the chimpocalyppse is nigh. The accumulation of horrifying ape news seems to be increasing exponentially. The harbinger of doom is this: Evidently monkeys have the capacity to conceptualize how things might have been different had they made a different choice. Basically, they can regret the things they didn't do. In other words, after they murder you, they can regret the fact that they didn't torture you first.
Obama Tries to Block Prisoner Abuse Photos
President Obama is trying to block the release of photos showing U.S. soldiers abusing prisoners in military prisons. This is a reversal from an earlier White House statement saying the administration would not oppose the public exposure of military misconduct in war zones. However, Obama said he opposed the release of the photos because they would further damage America's reputation, and possibly inflame anti-American sentiment, endangering soldiers in Iraq and Afghanistan.
Star Trek Rules the Box Office
J.J. Abrams is a miracle worker. Everything he touches turns to gold, even perennial bastion of geekdom, Star Trek. Abrams took a franchise that could only pull an audience who was taking a break from World of Warcraft in their parents' basement and turned it into a mainstream phenomenon. Star Trek took in $76.5 million over the weekend, and has been universally critically acclaimed. Finally, closeted Trek fans everywhere can shoot their "Live Long and Prosper" with pride.
Saberi Released from Prison
Roxana Saberi's ordeal ended this week when her successful appeal freed her from an Iranian prison. Saberi, an Iranian-born American journalist, had been convicted of espionage and sentenced to eight years in prison. She appealed the decision, and engaged in a hunger strike. With the pressure of the international community upon them, Iran's judicial system reduced Saberi's sentence to a two-year commuted sentence and she was freed from prison. Saberi was in high spirits after leaving Iran and arriving in Austria, saying, "Both journalists and non-journalists around the world, I've been hearing, supported me very much and it was very moving for me to hear this."
Wanda Sykes Stirs Controversy
Comedian Wanda Sykes raised a bit of a furor at the White House Correspondents' Association Dinner. The dinner gives the president an opportunity to show some levity, and is hosted by a popular comedian who takes an irreverent aim at politics. This year, however, Sykes compared Rush Limbaugh to the 9/11 hijackers. White House Press Secretary Robert Gibbs has already distanced the administration from Sykes' remarks. While the joke did seem to be in poor taste, if Sykes is going to be lambasted for anything it should be for her decision to appear in Evan Almighty.
Pope Calls for Palestinian State
In his visit to Israel, Pope Benedict XVI made a plea for Palestinian statehood. In a prayer in Bethlehem, the pontiff expressed Christian solidarity with "all the homeless Palestinians who long to be able to return to their birthplace." He also called upon Palestinian youth to resist the temptation to resort to acts of violence or terrorism, and expressed compassion for Palestinians killed by the Israeli offensive in Gaza.