Televangelism: A "Greatest" Hits Guide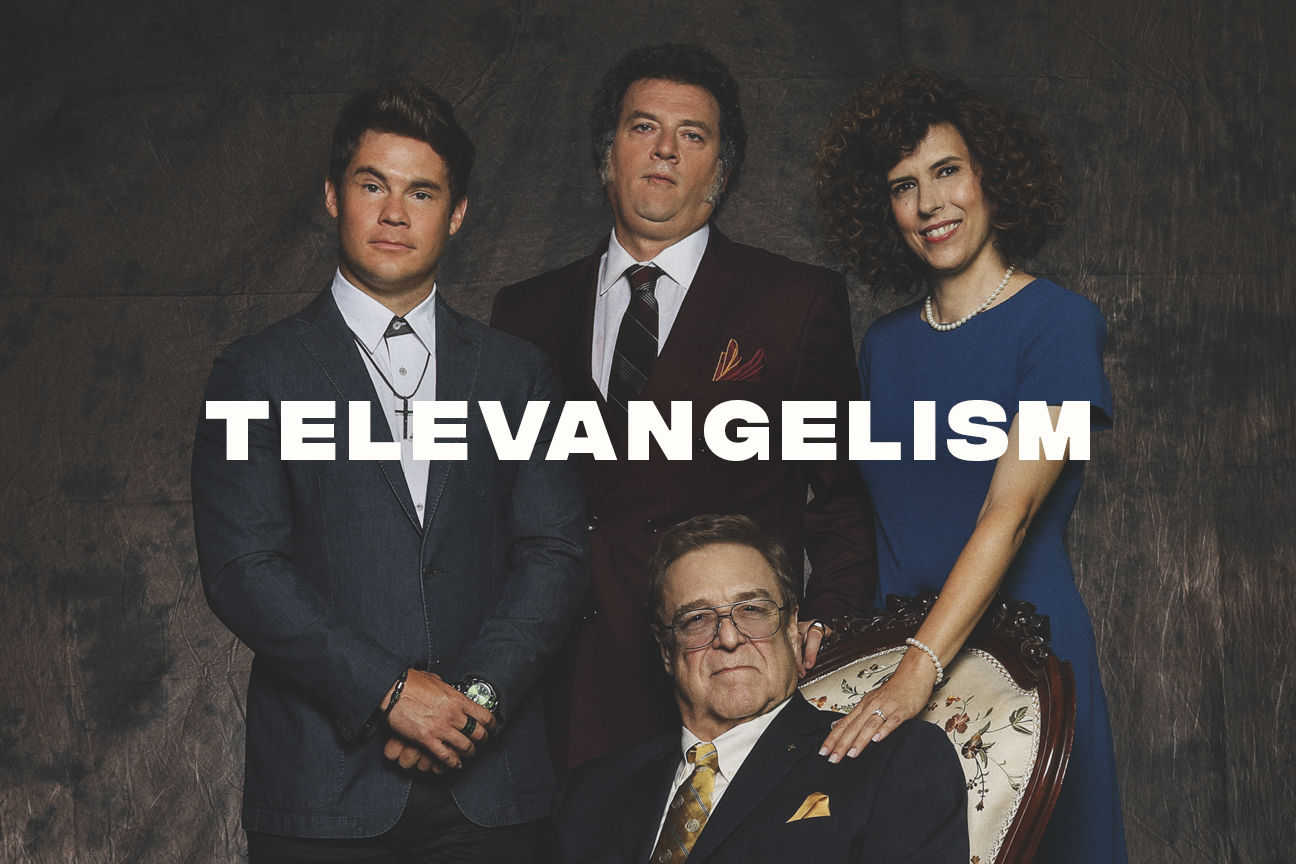 The Righteous Gemstones has a premise that's probably familiar to a lot of Christians of a certain age: A wealth-flaunting family of televangelist megachurch pastors struggles to balance family dynamics, generational tension, greed and fame while leading a "ministry" fueled by donations from devoted parishioners. And because the "Gemstone" family is comprised of characters played by Danny McBride, Adam DeVine, Edi Patterson and John Goodman, profanity-laced, wildly inappropriate antics ensue. But as over-the-top as the HBO series is, it's got nothing on the real-life misadventures of America's actual televangelists.
Here are nine things real televangelists did that are too over-the-top for satire. This is all true:
1. ORAL ROBERTS LOCKED HIMSELF IN A 'PRAYER TOWER' TO RAISE $8 MILLION
In 1987, televangelist Oral Roberts locked himself in the space needle-like Prayer Tower on the campus of Oral Roberts University to hold a prolonged prayer and fasting vigil to raise money for scholarships for medical students. He told his followers that if he didn't raise $8 million by the end of March, God would "call [him] home."
Thankfully for Roberts, after 10 days the stunt brought in a cool $9.1 million—thanks to a large donation by a Florida dog track owner concerned Oral was going to starve.
2. PAT ROBERTSON CLAIMED HE HAD SUPER-HUMAN THIGH STRENGTH
In 2006, CBN founder and The 700 Club host Pat Robertson told viewers that when he was 73 years old, he leg-pressed 2,000 lbs. thanks to three years of training and his "Age-Defying Shakes" (which are conveniently sold by The 700 Club). He claimed he leg-pressed a literal ton "one time, one rep," which would put him in the running for the strongest thighs on Earth.
3. JIM AND TAMMY FAYE BAKKER OPENED AN ILL-FATED CHRISTIAN AMUSEMENT PARK
In the late '70s, husband and wife televangelists Jim and Tammy Faye Bakker were full-fledged celebrities and decided to leverage their fame in the amusement park business. Heritage USA opened in 1978, and before it closed in 1989 in the wake of financial and sexual misconduct scandals, boasted a water park, an amphitheater, television studios and other loosely Bible-themed attractions. In 1986, the 2,300-acre attraction was the third most visited theme park in America, boasting 6 million visitors and following only Walt Disney World and Disneyland in attendance.
4. JERRY FALWELL SR. LAUNCHED A WAR ON TELETUBBIES
In the 1980s, televangelist and Liberty University founder Jerry Falwell Sr. led the politically conservative religious organization the Moral Majority, whose origins can be traced back to 1976 when Falwell hosted a series of "I Love America" rallies. Then, in 1999, Falwell decided to turn his attention from politics to taking on the Teletubbies. He was under the belief that one of the trippy-looking children's television characters was a "gay role model" that was "damaging" children. A spokesperson for the Teletubbies called Falwell's suggestion "absurd and kind of offensive."
5. ROBERT TILTON'S PRAYER HABITS LED TO PLASTIC SURGERY ON HIS EYELID
Among a certain demographic of Christians, Robert Tilton is best known for those YouTube videos edited to make it look like he can't stop farting (which are, objectively, still hilarious—for research purposes, we went ahead and watched them all over again).
But at one time, Tilton's TV ministry was bringing in tens of millions of dollars a year along with a lot of written prayer requests. After a news investigation found thousands of unopened letters in dumpsters near his office, Tilton claimed he prayed for them all by lying on top of large piles of the prayer requests. He then claimed ink got into his bloodstream, which is why he needed plastic surgery on his eyelids—you know, to repair the damage his capillaries sustained from absorbing so much ink.
6. CREFLO DOLLAR IS NAMED CREFLO DOLLAR
Creflo Dollar has owned multiple Rolls-Royces, multimillion dollar mansions, and of course, private jets. He openly preaches the prosperity gospel, promising that God rewards generosity to his ministry with wealth. But mainly, he's on this list because his last name is Dollar, and you just can't make that up.
7. KENNETH COPELAND BOUGHT TYLER PERRY'S PRIVATE JET BECAUSE HE'S AFRAID TO FLY WITH DEMONS
Kenneth Copeland is another televangelist who is a big fan of private jets, and doesn't mind asking viewers to buy him a $65 million Gulfstream. But don't worry, he has a perfectly good reason for wanting God's people to give him cash instead of helping the poor or something. In Copeland's words, he can't just go boarding a "long tube with a bunch of demons," adding, "It's deadly!" That said, it's possible Copeland was referring to American Airlines, which is obviously unfit for anyone of moral character.
8. JIM BAKKER SELLS VATS OF END TIMES GRUEL RATIONS
For his second appearance on the list, Jim Bakker reemerged from his first scandal and prison stint with a new televised preaching show. This one mainly focuses on helping the viewer prepare for the end times. There are apocalyptic "prophecies" and giant buckets of "emergency food." For just $100, you can order a "Fiesta Pail" with 30 days worth of basement-ready Tex-Mex slop, just in case you happen to find yourself left behind and in need of freeze-dried burritos.
9. PAULA WHITE BECAME A FAKE DOCTOR
Paula White rocketed into the national spotlight as a spiritual adviser to President Donald Trump, but she's also well-known among Christian television audiences for her glamorous lifestyle and teachings like, "I don't want pie in the sky by and by. I want some ham where I am." Powerful stuff. Though she does not hold a college degree, for some reason, she is frequently introduced as "Dr. Paula White" with no explanation.