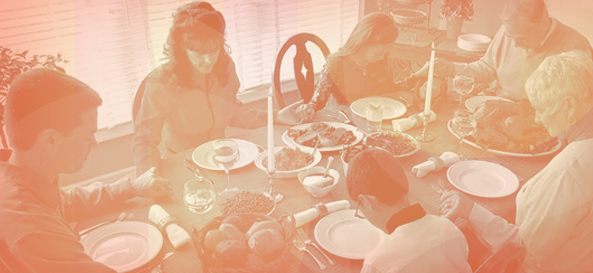 "Thanks" is the short form of the original prayer I used to say in gratitude for any unexpected grace in my life: "Thankyouthankyouthankyou." As I grew spiritually, the prayer became the more formal "Thank you," and now, from the wrinkly peaks of maturity, it is simply "Thanks."
Now as then, most of the time for me gratitude is a rush of relief that I dodged a bullet—the highway patrol guy didn't notice me speed by or the dog didn't get hit by someone else speeding by. Or "Oh my God, thankyouthankyouthankyou" that it was all a dream, my child didn't drown, I didn't pick up a drink or appear on Oprah in underpants with my dreadlocks dropping off my head. These are all DEFCON 1 moments of relief and gratitude worth giving God thanks.
The second and third levels of this great prayer are said with a heaving exhalation of breath, the expulsion of bellows—THANK you, whooooosh. The constables found my passport. The brakes held. The proliferation of white blood cells was about allergies, not leukemia; the pediatrician cancelled the appointment with the head of oncology and instead recommended Benadryl. Oh my God: thanks.
How can you help saying thank you after moments like these, when real danger is averted? Even atheists do. Agnostics joke, "The man upstairs must like me," as if it's the dean of admissions. I personally clutch at my chest and cry, "Thanks, my God. Thanks." And at such moments I would kneel and press my forehead to the ground if my right knee would not begin to sob. Then I usually move to: "I owe You big this time. I'll never ask for anything else. This time I mean it."
It is easy to thank God for life when things are going well. But life is much bigger than we give it credit for, and much of the time it's harder than we would like. It's a package deal, though. Sometimes our mouths sag open with exhaustion, and our souls and minds do, too, with defeat, and that opening is what we needed all along. Any opening leads to the chance of flow, which sometimes is the best we can hope for, and a minor miracle at that, open and fascinated, instead of tense and scared and shut down. God, thank you.
We and life are spectacularly flawed and complex. Often we do not get our way, which I hate, hate, hate. But in my saner moments, I remember that if we did, usually we would shortchange ourselves. Sometimes circumstances conspire to remind us or even let us glimpse how thin the membrane is between here and there, between birth and the grave, between the human and the divine. In wonder at the occasional direct experience of this, we say, "Thank you."
I thank God when my obsessive looping is alleviated. Oh, God, thank you—10 whole minutes just passed without one thought of a cigarette or a drink or the horrible ex. I got through the bad appointment with my doctor, my bank, my lawyer, my ex—the worst is over. (Actually, under no circumstances should you ever say or even think the worst is over. You will bring the evil eye down on yourself so fast it will leave you keening. But it is OK to say, "That could have been so much worse," which is always the case.)
Gratitude runs the gamut from shaking your head and saying, "Thanks, wow. I appreciate it so much," for your continued health, or good days at work, or the first blooms of the daisies in the public park, to saying, "Thanks, that's a relief," when it's not the transmission, or the abscess, or an audit notice from the IRS. "Thanks" can be the recognition that you have been blessed mildly, or with a feeling as intense as despair at the miracle of having been spared. You say Thankyouthankyouthankyouthankyou: My wife is going to live. We get to stay in this house. They found my son; he's in jail, but he's alive; we know where he is, and he's safe for the night.
Things could have gone either way, but they came down on our side. It could have been much, much worse, and it wasn't. Heads, we won.
And of course, gratitude can be for everything in between, from the daily break of good luck and found money, to the magical, mystical, magnetic force of quiet or exuberant relief, when you know that something—God, fate, kismet, the law, Powerball—has smiled on you big-time.
Domestic pain can be searing, and it is usually what does us in. It's almost indigestible: death, divorce, old age, drugs, brain-damaged children, violence, senility, unfaithfulness. Good luck with figuring it out. It unfolds, and you experience it, and it is so horrible and endless that you could almost give up a dozen times.
But grace can be the experience of a second wind, when even though what you want is clarity and resolution, what you get is stamina and poignancy and the strength to hang on. Through the most ordinary things—books, for instance, or a postcard, or eyes or hands—life is transformed. Hands that for decades reached out to hurt us, to drag us down, to control us, or to wave us away in dismissal now reach for us differently. They become instruments of tenderness, buoyancy, exploration, hope.
We sing a slow hymn at my church, St. Andrew's, that goes, "God has smiled on me. He has set me free."
For us to acknowledge that we have been set free from toxic dependency, from crippling obsession or guilt, that we have been graced with the ability to finally forgive someone, is just plain astonishing. You can't have gotten from where you were—gripped by anxiety, tiny with fear—to come through to freedom, for God's sake. To have been so lost that you felt abducted, to feeling found, returned, and set back onto your feet: Oh my God, thankyouthankyouthankyou. Thank you. Thanks.
Excerpted from Help Thanks Wow: The Three Essential Prayers by Anne Lamott © 2012 Riverhead Books. Used with permission.
Anne Lamott
Anne Lamott is the New York Times best-selling author of Some Assembly Required, Bird by Bird and Traveling Mercies, as well as several novels. She lives in Northern California.