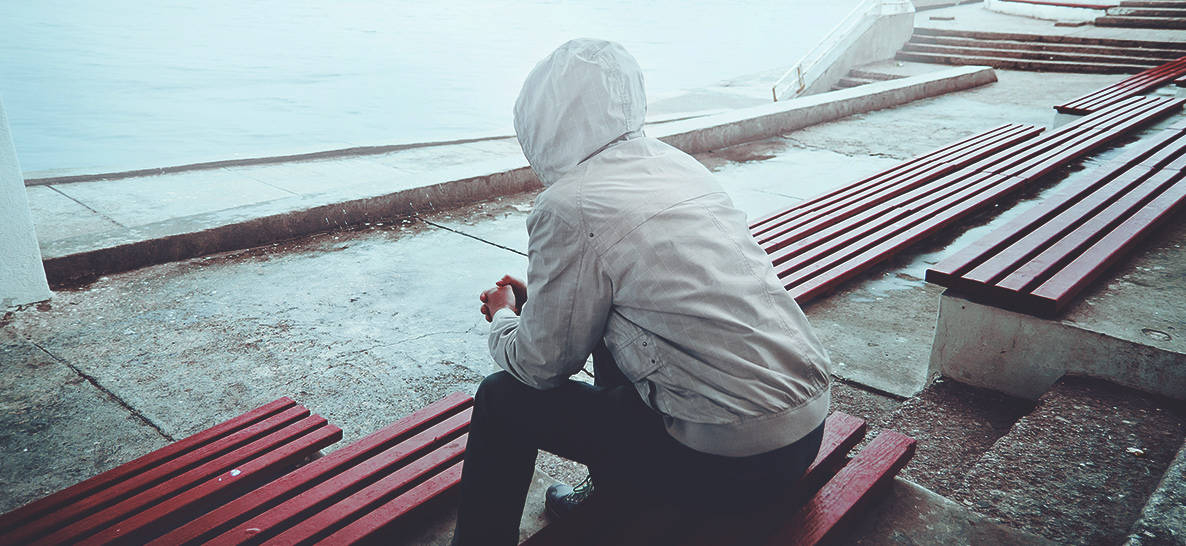 For many people, the word "temptation" brings to mind the kind of situation where a cartoon devil and angel pop up on a character's shoulders, arguing over whether to walk away from a situation or jump into it.
But according to Tim Chaddick, the pastor of Reality LA, temptation is much more than that. In his new book, The Truth About Lies, Chaddick explores common areas where temptation can creep into our lives without our realizing it—and how it can actually help us grow.
We talked to Chaddick about the book, what temptation really looks like and how small choices shape our lives.
Where do you think the Church and we as Christians get temptation wrong?
In my experience, we go wrong when our view on temptation is too shallow or our understanding of why God allows it into our lives is too narrow. If our view of temptation is too narrow, then we're going to be giving in in ways we don't even realize, we don't even expect—just quietly doing damage to our character and to our faith.
For example, if we only talk about temptation in terms of the big kind of "capital S" sins like pornagraphy, extra-marital affairs and all those things—which are indeed awful sins, just to be clear—but we'll assume those are the only things we're trying to avoid. But all the while, we could be giving into all kinds of other sins that the New Testament talks about, like pride and manipulation and backbiting and gossip.
The New Testament is way more pervasive than we think. We can't afford to live on the surface level, we need to get down even to the attitude of the heart.
So we don't want our definition to be too shallow. But if we stop there, that's going to leave us pretty paranoid and paralyzed. Like, "Oh my goodness, temptation is everywhere." But God has allowed us to live in a world of temptation so that facing daily temptation can actually become a character-shaping process. As we choose the truth in even the face of the smallest, most subtle lies, we're actually flexing spiritual muscles that shape the type of people we become over time.
You say temptation can be an opportunity for good. How so?
Just to use a marriage example: I think anyone who's married hopefully wants to be faithful to their spouse. We hear those stories of a moment of unfaithfulness happening, this very explicit example of an affair or whatnot. If I want to become the type of person who is faithful to my wife in those big moments, that means a thousand and one choices I need to make every day to choose to be faithful to my wife, even in the smallest things—telling her the truth on a daily basis and living in light of that. The more I do that, the more and more that actually shapes my character.
Even noticing the tiniest temptations that would lure me away from that, if realize in that moment I'm being tempted but this is my opportunity to choose the truth, then it's just another opportunity to exercise that muscle. That, over time, actually makes me stronger and quietly cements that commitment I have to my wife. When we realize that it's a character-shaping process, that's when we understand that it's an opportunity for good.
In one chapter in the book, you talk about the temptations within religion. Could you expand on that?
That particular chapter is based on the second temptation of Jesus in the wilderness where Jesus is being tempted to jump off of the Jerusalem tower by satan. The more I spent time on that passage, the more it became clear how tempting it is to give into religion as a way of trying to manipulate God, as a way of trying to manipulate people.
That's one of the subtle ways we can be tricked into hypocrisy. Thinking, "As long as I'm wearing the uniform, then everything's good. I can slowly rise to power and climb over these other people." Maybe I just want this position in the church because I want to exercise influence over other people. I want to be loved and respected, so I can climb up the ladder in this church. Nobody will ever know, because it all looks good on the outside, but on the inside we could be operating by motives that are disintegrating our souls.
When I was studying that, I reflected on the times I do that, the times I've done it in the past. Part of me wishes people would have called me out on that more in the past. I certainly think if we create a culture where we're talking about that a little more openly and honestly, I think we would become more healthy people.
How can we run from temptation?
See Also
Temptation is an invitation to stray from the truth in word or in deed. It comes in the forms of lies, and they're not always the biggest lies. Those lies are always going to appeal to fallen desires, promising something they can't ultimately give.
I think for me personally, one of the best ways to avoid that is, first of all, asking the question, "Where is the lie in this temptation?" Is that lie that you're going be greater than these other people? Or you're going to get the validation you'll if you just do X Y and Z?
Secondly, "How is [that lie] leading me away from the truth of Jesus Christ?" It's in Jesus we have the validation we need. In Jesus, we have the approval we need. In Jesus, we have the satisfaction that we need.
One of my favorite passages in the wilderness temptation of Jesus is when satan is asking Jesus, "If you're the son of God, then turn these stones into bread." Jesus says "no," and essentially what Jesus is saying there is "I don't have to prove anything. I am the beloved of God." In the face of temptation, often the motive that's being appealed to is "I have to prove my worth." But when I remember Christ—who He is, what He's done for me, that I'm totally accepted in Christ—I can say "I don't have to prove anything. I'm the beloved of God." It's really just identifying the lie and then clinging to the truth of who Christ is. The more we do that daily, the stronger we will become.
What do you hope people take away from the book?
I hope that just as Christians, we take more seriously the importance of even small choices in daily life. It's actually a theme of virtue. Virtue, to use a definition from Tom Wright, is the habit forming strength of character. Through these decisions, we become strengthened.
Defining moments are never alone, they are always preceded by countless other smaller choices. If we realize each of those small decisions is a moment to choose the truth in the face of lies, we're going to become more and more like Christ. We're going to find more and more strength to face all the things culture is going to throw our way—both inside and outside the Church.
I hope it pushes people to cling to Christ more closely as they realize how pervasive sin and temptation is. That shouldn't leave them in despair, but actually hopeful in knowing that, in Christ, we have a Savior, and when we fail, He lifts us right up and gives us a new start. We have the opportunity to choose Him again and again. The more we do that, the more we're going to reflect Him to a lost and dying world.
Dargan Thompson
Dargan is a former RELEVANT editor turned freelancer. Find her online at darganthompson.com or follow her extremely random train of thought on Twitter @darganthompson.