The 6 Stages of Every Millennial Relationship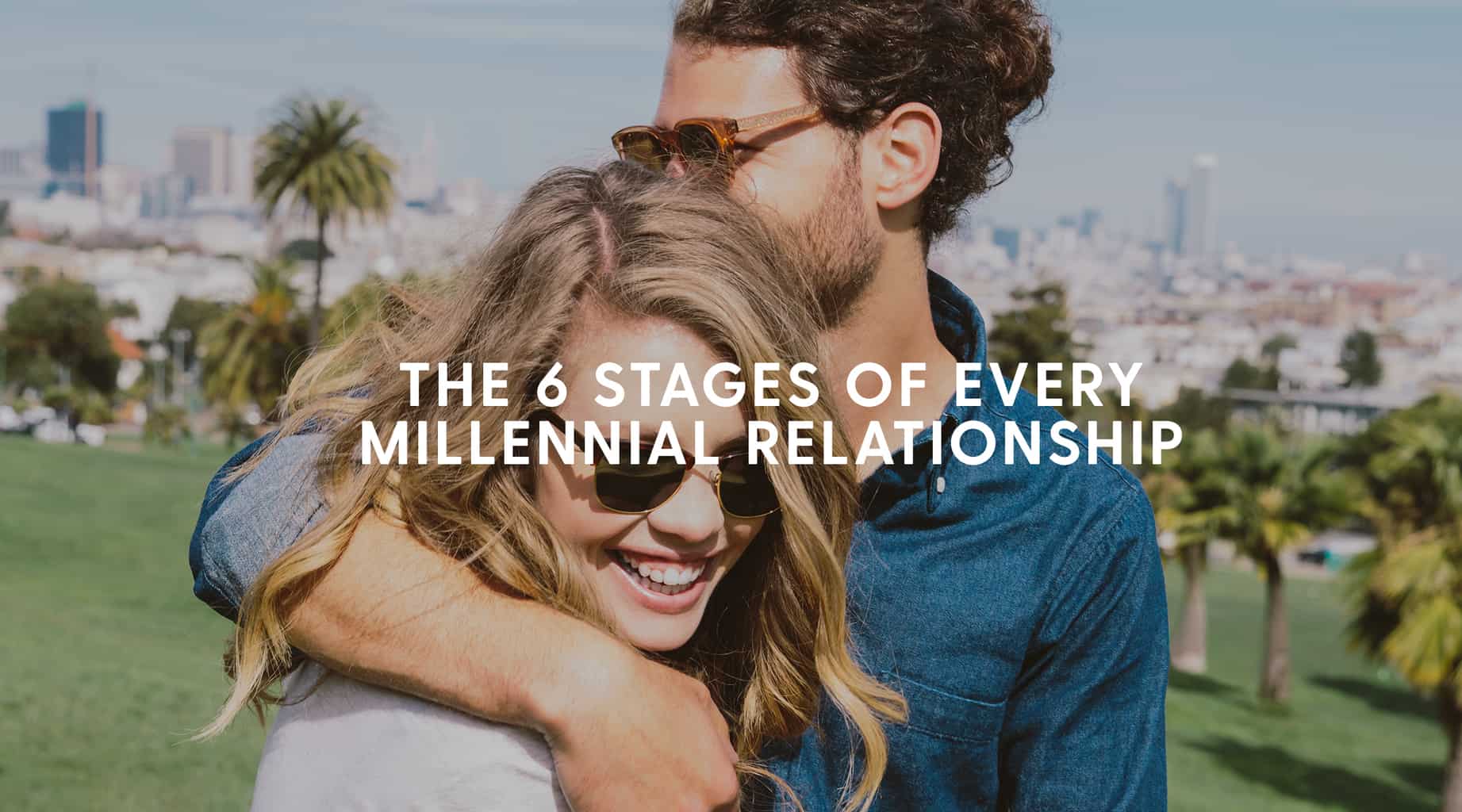 IT'S A TALE AS OLD AS TIME: Boy meets girl. Boy asks girl out. Or girl asks boy out. Or they haven't actually met yet, but they both swiped right. Or some algorithm determined that their interests, religious views and love for bingeing old episodes of Parks and Rec means they are compatible. Or they're going on dates but they aren't going out yet. Or it's sort of assumed they're going out but neither of them actually asked the other out so the relationship sort of just happened by osmosis. Or they've just been hanging out in groups for a while and then one day—bam!—married.
Yeah, dating follows very few blueprints in this strange new era. A lot of the maps you were raised to follow feel outdated. The pickups are now put downs, and all the keys you've got have stayed the same but the locks got changed.
But there are still a few guidelines that can help even the most luckless single out there, and if you're finding yourself bewitched by the fickle mistress of commitment this year, then take the following to heart.
1. THE SPARK
Ah yes, the spark. It needs no introduction and has remained a staple of any relationship from time immemorial. In the days of yore, the woman was just thrown into a lake and if she didn't drown, it was assumed there must be some sort of spark with the town mayor.
Today, the spark is almost ephemeral. You know it when it happens, but it's hard to describe it before it does and even tougher after the fact. There are the sweaty palms, weak knees and other descriptors from the first few bars of "Lose Yourself." There's the nervous banter, the fact that you start looking for them in a crowd or getting anxious when they don't immediately respond to a text. There's the fact that you laugh at their jokes with the force of a jackhammer. All these things are signs of the spark. Sometimes it lasts for a day or two, and sometimes it chains itself to you—a constant feeling of nauseous delight that you drag around like a sack of jelly beans. It's terrible.
If you're feeling the spark, take a step back and enjoy it. Just because you're in the first stage doesn't mean you need to slog through all of them.
2. THE ALIGNING OF INTERESTS
This is a time-honored phase of love that predates the royal family and will outlive the world's empires. It usually happens around the same time as the spark, but it also outlasts it. It's the alignment of interests, a little game in which the two of you figure out what things you both enjoy. This often involves some savvy negotiation, because you'll probably be feeling pretty generous with your "interests" when you're crushing on someone. OK, so maybe you don't technically love archery, but he does and, well, you like The Hunger Games which has some archery in it, so it's not a total lie.
This little bartering session becomes a bit awkward down the road, when you suddenly have to explain why you don't know all the lyrics to K-Ci and JoJo's "All My Life" even though you swore up and down it was your favorite song. That's why this stage of a relationship is best skipped if possible. Yes, pay attention to where your interests actually align. But don't force them to. Be upfront about your real interests and don't fudge the facts. After all, if the sole foundation of your relationship is that the two of you like the same movies, you've probably got some tough questions to ask yourselves.
3. THE FIRST DATE
The first date is more than just a first date. It's a declaration of intent. Or, at least, it should be. A lot of first dates end up as an ambiguous hangout in which both parties are trying to determine the extent to which they're supposed to be romantic. In this scenario, there are a series of Rube Goldberg-type actions that could turn the event into a date (like hand-holding or one person paying for the whole meal) and if they don't happen well, then, it wasn't a date. Or it wasn't entirely a date.
It's better to call a spade a spade at the outset. If you've felt the spark and you think it might go somewhere special, ask them on a date—using those words: "Would you like to go on a date?" Sure, it takes putting yourself out there, but the risk of being let down is much better than asking someone to go to coffee, having a good time and then realizing you still don't know where you stand.
Relationships take intentionality, and being upfront about your intentions is part of honoring and respecting the other person. No matter how far your relationship goes, always remember that this person has a real life outside of your interest in them.
4. THE HUDDLE
In romantic comedies, the Huddle usually takes place over a few pints of ice cream among best friends, but the Huddle can happen anywhere. The gym, with family over the holidays, over text with your college roommate or just on the couch with your cat. The point isn't the location, but the subject: You're weighing the pros and cons of a new relationship with a patient, trusted sounding board. In which case, the cat should be saved as a last resort.
The quality of the Huddle depends on just how honest the other people in it are willing to be. They won't just ask about the person you're interested in but about where you're at personally. Are you ready for a new relationship? Is this a rebound? Are you using this other person to fill a void in your life that might be better handled alone? How is your relationship with God, and is it in a good place to be in a relationship? These are the sorts of questions that get asked in the Huddle. If it feels uncomfortable, that means you're doing something right. These aren't fun conversations, but realizations like this are easier to come to before a relationship starts than afterward.
5. IT'S OFFICIAL
Of all the stages, this one is the most concrete. There's a definite moment in which you become official with someone. It's a sea change. One moment, you're single, available, "just seeing people." The next, you're "official." You're "dating." You're "taken." Whatever the terminology, there's a certain amount of concrete-ness to them. Being official is a tangible thing, and it sets up certain rules around your life.
What are those rules? Well, that's where things can get nebulous. Different people have different expectations about what official looks like and, unfortunately, a lot of couples don't really discuss those expectations. There's a notion in the world that the "So, can I call you my girlfriend?" conversation has universally understood implications, but the reality is that your understanding of dating is shaped by years of unique experiences, from the home you were raised in to the church you attend to the most recent movie you watched.
A rarely asked, but helpful, question to avoid this confusion is a simple one: "How do you define 'dating?'" It's a fun, unobtrusive question that is bound to clear up some of the unspoken misunderstandings between you, and as a bonus, it works as a nice segue into less abstract topics.
6. THE UNKNOWN
From here, you're on your own. Maybe your new relationship will lead to the altar, maybe it'll end in tears, but getting too caught up in fretting about all that now will keep you from starting in the first place.
Whatever happens, don't forget to take care of yourself in the midst of it all. Pray. Hang out with other friends. Get some alone time. A new relationship is no excuse to stop working on yourself.
For now, just try to pace yourself through the stages, soaking in whatever experience you can along the way.
Tyler Huckabee
Tyler Huckabee is RELEVANT's senior editor. He lives in Nashville with his wife, dog and Twitter account.