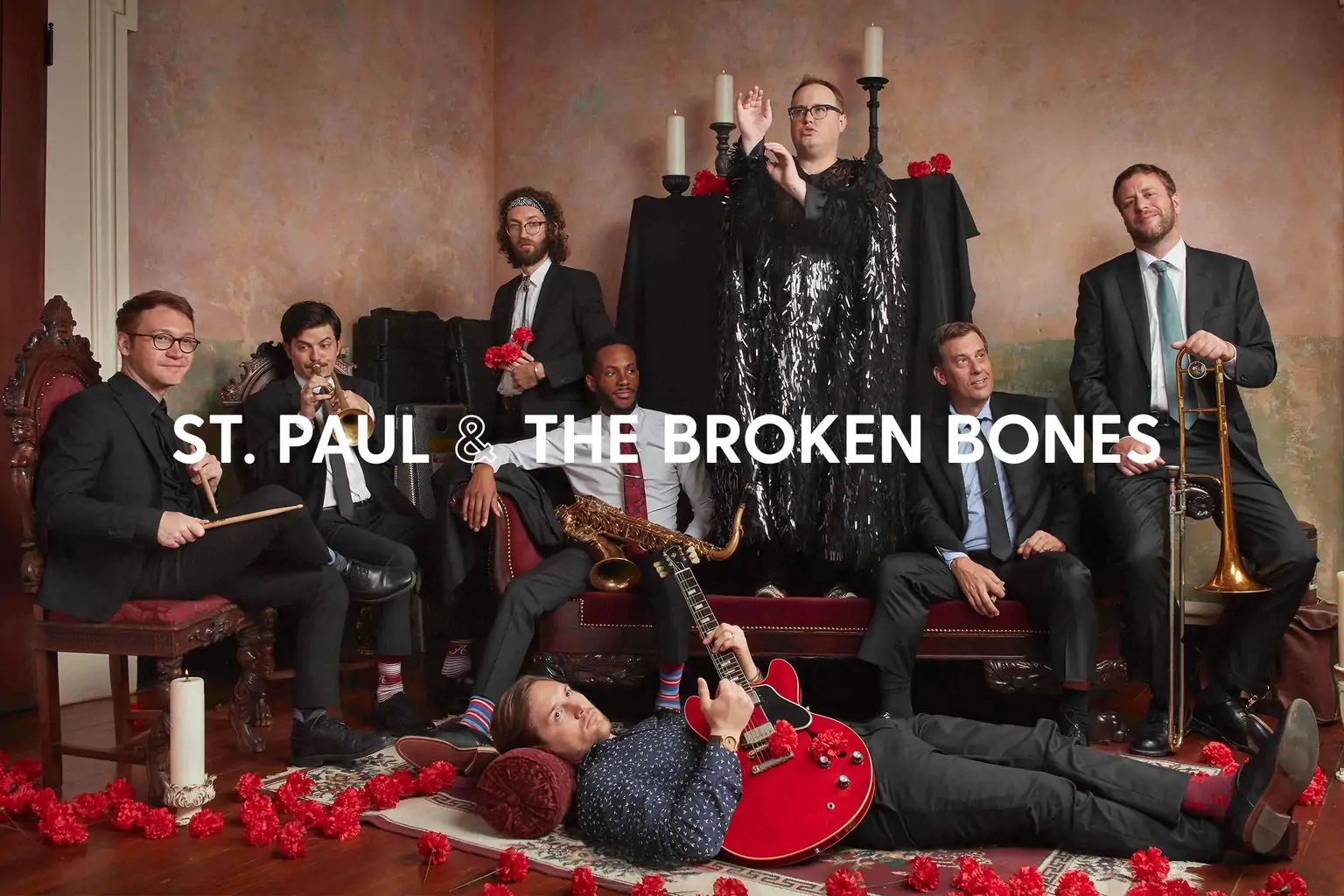 Paul Janeway describes his family with a quote, fittingly, from southern historical figure Andrew Jackson: "I was born for the storm, and a calm does not suit me." Janeway used to run from the storm. These days, he finds himself embracing it.
As the frontman for soul group St. Paul and the Broken Bones, Janeway has tangled with his Alabama origins throughout his musical career, but he's never brought them forward to be the center of the band's music. St. Paul's newest record, Young Sick Camellia, is their third after 2014's Half the City and 2016's Sea of Noise, but Janeway is leading the group down more personal roads on Camellia. This will be the first of a three-part album series in which Janeway explores his family tree. Camellia is about him, its follow-up will be about his father and the third album will center on his grandfather.
"I grew up in a conservative, very religious area," Janeway says. He says at one point he tried to eradicate his accent, but he gave up the effort years ago. "A lot of people have a sense of pride in being from Alabama, but there's complication there for me. My father and grandfather are from [the South] so it's kind of entrenched culturally in me. I'm trying to swim through that and find my own identity."
Janeway's grandfather was a mechanic from Middlesborough, Kentucky. Janeway says his pappaw was "tough, not a hugger or someone who would say I love you. He was a hard man. He showed his love through work."
Janeway's father was raised in a single-wide trailer, poor, in Alabama. He doesn't hug, either. Both Janeway's dad and pappaw had "a chip on the shoulder," Janeway says. He ticks off some of their old adages: "'The world's against me, I'm going to blast through mountains.' That kind of thing is ingrained in my DNA. I'm always trying to prove myself."
That competitive drive is complicated by Janeway's up- bringing, both in the Church and the South as a whole. Janeway used to aspire to the seminary, but he's not religious anymore. In fact, he takes a few shots at some of the hypocrisy he sees in modern churches on Camellia: "Gun-shaped Bible and a loaded tongue / Jesus ain't the problem, but He started one" he sings on "GotItBad."
Janeway played guitar at his family's nondenominational charismatic church growing up, and he says he still thinks about how to balance the love and compassion he heard in worship with the hardened cynicism of his ances- tors. He's still drawn to the message at the heart of church, but the context of that message—the politics and attitudes that prevail across most of the South—bothers him.
"I'm a lot less judgmental than I was [growing up in church]," he says. "Youth was the bliss of ignorance, but life experience makes you more compassionate and more understanding. You understand there are a lot bigger places than Chelsea, Alabama."
Young Sick Camellia filters Janeway's heritage, evolution and tension through a swirling series of images, namely storms and outer space. Janeway, caught between his roots and his beliefs, sings through his conflict with a voice that couldn't be anything but Southern and words that couldn't be more torn about that.
The singer pleads on "Apollo": "Captain, can you hear me? / I wish I was the one that told you / Stuck in moon dust, try to call my baby / Tried to reach her but now it's goin' hazy / Air is gone so now I'm never comin' home."
"On the idea of space, it's me feeling somewhat isolated," Jane- way says. "But it's also the idea of my head being in the clouds, or just being weird and feeling that way at certain times."
In the two follow-ups to Camellia, Janeway will bring the lyrics back down to earth. The second album, about his father, will be about the land and the dirt, and the third, about his grandfather, will have a subterranean quality.
"My grandfather told me before he passed that he was like a caravan. He just moved trailer to trailer so he could work on equipment and go underground," Janeway says. "So there will be three parts and three layers."
In that sense, the distance between Janeway and his family tree will be made literal.
You're always trying to give hope. That's what music does. It uplifts me. It creates this moment of hope that we're beyond ourselves.
Writing the album was cathartic for Janeway, but the record is outward-oriented, too. He wants it to be a point of connection for people, something people can identify with and use to create unity. It's meant, in some way, to create the common ground Janeway felt he missed as his path diverged from his ancestors'.
"You're always trying to give hope," he says. "That's what music does. It uplifts me. It creates this moment of hope that we're beyond ourselves, and bearing someone's soul makes you feel hopeful or connected. Music is about that specific moment."
There are bigger places than Chelsea, Alabama, but Janeway still won't be able to leave its shadow, and that's okay with him now. He's suited for the storm, after all.
"Even in my church days, I was always drawn to songs that deal with hurricanes and the banks of the Jordan and things like that," he says. "It still brings something out of me. I still feel a somewhat spiritual connection. There's still a passion—a passion to try and get to a higher place."