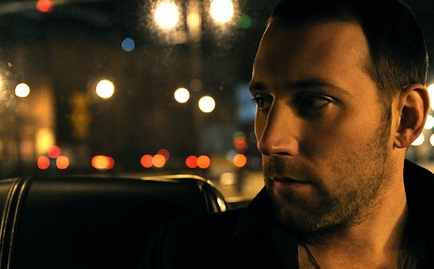 Today, Mat Kearney is a musician widely recognized for his storytelling ability and unique fusion of acoustic pop and spoken word. He's toured with the likes of MuteMath, Keane and Owl City and churned out hits like "Nothing Left to Lose" and "Closer to Love." His robust third album, Young Love, is already seeing both critical acclaim and commercial success. But once upon a time, Kearney was just an Oregon boy playing soccer, painting graffiti and studying literature. What turned a rebellious poet into a respected musician? We recently got to chat with Kearney about his new album, his family history, marrying the love of his life and the role faith plays in his art.
RELEVANT: You got married last summer. How did finding love and starting this new journey in your life impact you as an artist?
MAT KEARNEY: Definitely as a muse. A lot of songs were written about us and our journey. When you decide to enter into a relationship like that, you learn your inconsistencies and your faults; it brings out a lot of different stuff about family and your own shortcomings. There are a lot of songs that came out of that. Just two people trying to connect, and two people trying to deal with themselves, and where they fall short and where they succeed. That's what Young Love is about.
What particular songs on Young Love are you really excited about?
"Hey Mama" was a really exciting one because it helped spear the record. Instead of making a traditional singer-songwriter record, that song happened when I sat down and I was stomping and clapping. I made this groove with claps and this 808 and I started dancing around the room writing this song about meeting my wife. It really helped direct the record into the more program-y, more beat-driven direction. But then again [there's a song called] "Ships In the Night" that I love. Probably the last song is really important to me. It's called "Rochester," and it's this song I wrote about my family and my grandfather and my dad. It's probably the most personal song I've ever written.
That closing song seems whimsical and larger than life, but it's obviously very intimate and personal to you. What prompted you to share that story about your family?
I'm actually named Matthew William Kearney, my middle name is named after my grandfather. My grandfather raised my dad in Rochester, N.Y., and he had a fake cigar shop and he ran an illegal gambling ring out of the back of it. So my father had to live through that, and then the mob came to town when my dad was a freshman. They put my grandfather out of business because he was taking their business. So my dad had to live through that. And then he followed Pink Floyd through Europe for a while, then he became a lawyer. He moved to Hawaii where he was a deckhand on a boat and he met my mother—who was a mermaid on a glass-bottom boat. They were married and moved to Oregon, so I guess it's this crazy story that's better than you could make up. I sat down on this album and I said: "I'm going to only write songs that are within an arm's reach. I'm not going to, like, write songs. I'm going to tell my story, and I'm going to tell the story of those around me." The song ends with my father flushing a quarter pound of hash down the toilet as he's looking at my older brother. It really kind of helped shape what I've become. I don't know, it was obvious. I don't know what I've never written it before, but all of a sudden I sat down with my guitar and it happened. It's all true though, that's the funny part. I didn't make up any of that stuff.
You tend to favor a storytelling approach when it comes to the topic of faith in your songs. Why is that?
I think it's part of the arena that I'm in. The arena I've kind of been placed in is this pop-culture market. I think the way I love talking about my faith is through my story because I think that's all we have to work with sometimes. I think it's the most moving way to share your story, too—is what you know, what you've seen, and heard, and tasted and felt. For me that's always been a way—I'm just telling you what I know, and seen and heard, and there's really no arguing with that. There's power in that. For me, maybe it's the path of least conflict or it's the way that I've fallen into, but it's what I've always done, ever since I started writing in high school. I've always kind of started in a story and jumped to these bigger metaphysical ideas in the daily, mundane things of trying to not fight with your girlfriend or something.
You've become known for this element of spoken word in your songs. What first inspired this unique style?
I grew up listening to Tribe Called Quest, and I was this rough kid who sold pot and graffitied trains with spray paint—I was that kid. When I barely got into college, the one thing I could do was write, so I became an English major. There was this whole poetry side of what I was doing, and it turned into this spoken-word style performance thing. I didn't start writing music until I was a sophomore in college. I would steal my roommate's guitar and sit on the front porch and kind of blend this weird spoken word and these little melodies over simple chords; that really started my whole journey as a musician.

So you were into soccer, poetry and painting while you were younger. What was it for you about music that trumped these other interests you had and made it clear that music was your calling?
Well … I don't know. I didn't mean to. I don't remember ever making a decision. It's just this thing I found that I loved so much, and it wasn't a job, I didn't think I could ever make a penny doing it; I just loved writing these little songs. I met this guy, Robert Marvin, who was a friend of mine from Oregon, and he said: "Hey, I'm driving to Nashville. I've heard a couple of songs you've done before, and if you help me we can record a couple of songs." So I helped him drive across the country, and we showed up to Nashville and set up this little studio in his bedroom. At that point I was done—if I could do anything in my free time, I wanted to be in the studio writing.
What's next for you? When would you get back in the studio again?
Hopefully not too soon. You've got to take time to live and breathe so you have something to write about so it's coming from a genuine place. If there's anything I learned on this record it's that the songs that come out of life, that really resonate from the deepest places in you, are the ones that seem to stand up. The problem is there's got to be some time for those songs to come; you can't force them to come. They come as you listen, and meditate and pray, and wait for those songs, really. That's the challenging part of what I do. You can't just show up 9-5 and are guaranteed that a good song comes. Some of the songs fall out of the sky—they existed before I had it.