As the COVID-19 pandemic continues to surge, medical supplies are coming up short, forcing hospital workers to make split-second moral decisions about life and death. For example, which patient should get a ventilator if there's a shortage? Should the ventilator go to the patient with the highest chance of recovery, even if that means someone in more critical need might be denied potentially life-saving care? Or is it the patient who needs it the most at the time, even if other patients might stand a better chance of recovering if they had a ventilator? Many doctors, nurses, physician assistants and other healthcare workers have had to make such calls.
Pew asked Americans how they felt about the question and found a surprise: respondents were largely divided along religious lines.
In short, people with no religious affiliation were more likely to say the ventilator should go to the person with the highest chance of recovery. Meanwhile, religious people were more likely to say it should go to whoever needs it most. According to Pew, this is more generally in line with medical guidelines. Healthcare professionals tend to take a utilitarian approach, prioritizing the best overall outcomes for the most number of people.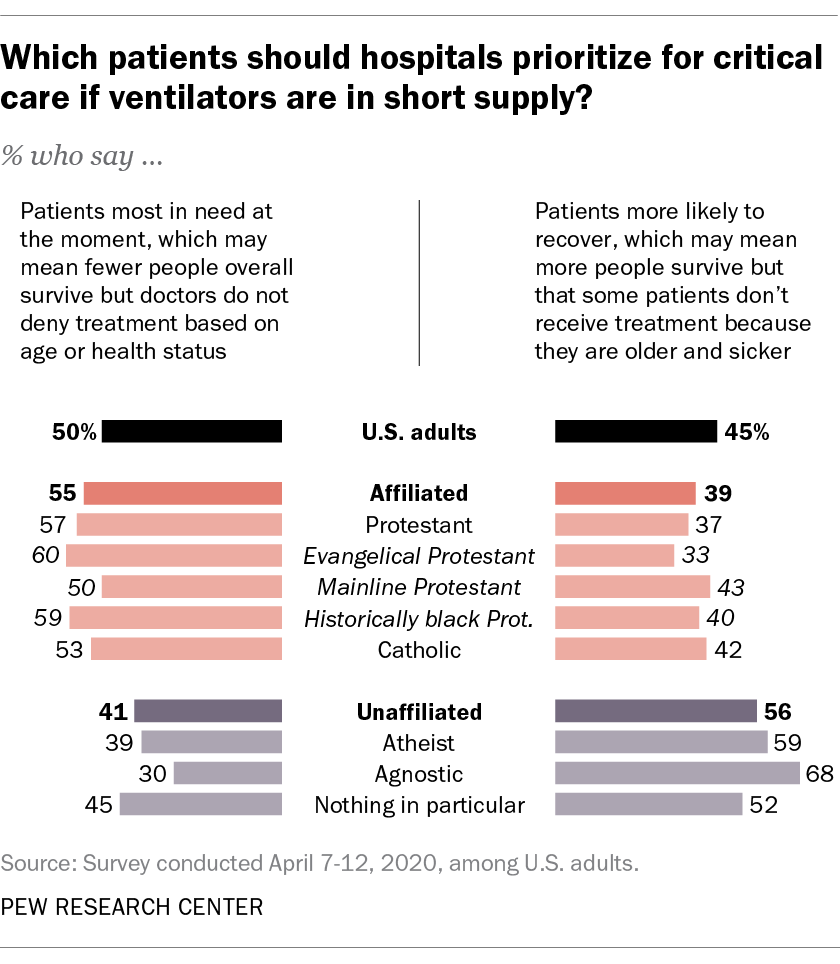 But religious people take a more immediate approach, preferring to give ventilators to the person most in need at the moment, regardless of their age or health status. This non-discriminatory practice of ethics might lead to more overall deaths but would ensure an egalitarian method of helping people on an individual level.
Pew speculates that the disparity may have to do with the way personal moralities are formed. Religious people have a shared morality that governs their collective actions, while non-religious people often form utilitarian moral codes through their own life experiences.
It's important to note that religious and non-religious respondents were by no means evenly split here. Plenty of people of all religious persuasions answered a variety of ways. But the trend does seem to suggest a slightly different moral code between the two categories, even for a question as complicated as this one.