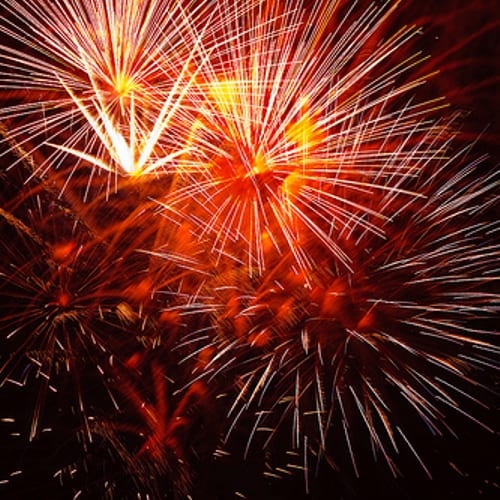 Who is like you, O Lord, among the gods? Who is like you, majestic in holiness, awesome in glorious deeds, doing wonders? (Exodus 15:11)
When I was a kid I loved fireworks, but somewhere along the journey I stopped seeing the magic in them. Four years of college went by without me seeing them or missing them for that matter. This may not outwardly seem like a big deal, but to me, it was. I felt like something was missing, something bigger than this past excitement over some lights in the sky.
I was at a Tigers game a few years ago with some friends and three kids I once babysat. Throughout the entire show they kept squealing and laughing and in awe. The brother kept asking how fireworks worked, and when the grand finale was over they were left wanting more. Their delight was contagious; I couldn't keep the smile off of my face, and I realized something huge about myself that night: I had let things that were once extraordinary to me turn into the ordinary.
To the children I was with the fireworks were extraordinary. To them the colored fire in the sky was this unexplainable phenomenon, like a miracle. To me, this was just a bit of well thought out chemistry that was pleasing to the eyes. As each firework exploded in the air I could see the shadows of the men igniting them from below. I became aware I had stopped delighting in the things that were explainable.
I'm not saying I was not to blame for losing my intrigue with beauty, but I think I was in part a victim of culture. I believe we are living in a science and logic driven culture where awe is taken out of things. Once we can explain how something works, we do not continue to be amazed by it. The aim of science today is to more fully comprehend the way many things work in nature, and by all means the pursuit of truth through science is a noble cause. However, having scientific or logical explanations for the existence of fireworks, sunrises, sunsets or an old oak tree, shouldn't make these things any less amazing or beautiful.
Leading up to this fateful night at Comerica Park, I had heard people use the phrase, "faith as a child." It always seemed to be in the context of believing in something without thinking and dismissing science or logic, but I think through my observations this phrase means a little something different. First, the children were inquisitive; they wanted to know how the process of creating fireworks happened. I don't think we're intended to be a people that watch things happen and not ask "Why?" or "How?" We are supposed to be curious and analytical.
Next, these kids really couldn't get enough of the fireworks. They kept going off, and even though they all seemed the same, they were none the less excited. Maybe having "faith as a child" means taking joy in something as if we were experiencing it for the first time. Perhaps having "faith like a child" really means we are intended to ask questions and dig deeper while simultaneously delighting in the processes we have only begun to understand. Maybe curiosity and delight in beauty are pleasing to God.
Dig Deeper:
Prayer:
Father, I want to have a childlike awe and wonder about Your creation. Thank You for creating a wonderful place and life for me. I don't want to take any of it for granted. 
---
RELEVANT's "Deeper Walk" daily devotionals are presented by the LUMO Project, a visual translation of the four Gospels developed to engage people with scripture in a new way. You can watch the videos—which redefine the standard of visual biblical media—on YouTube, and find out more about LUMO's mission at their website.