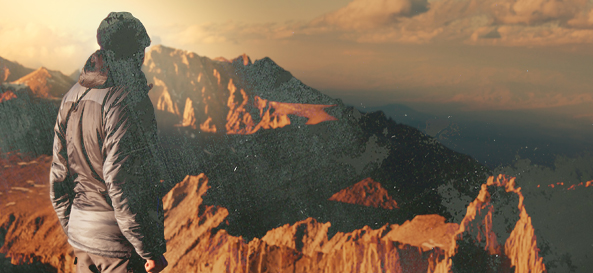 "During the fourth watch of the night Jesus went out to them, walking on the lake. When the disciples saw him walking on the lake, they were terrified. 'It's a ghost,' they said, and cried out in fear. But Jesus immediately said to them: 'Take courage! It is I. Don't be afraid.'" (Matthew 14.25-27)
A while ago I was traveling with my wife to see her cousin's wedding up in northern California, and after much discussion, we realized that we were hopelessly lost. The dirt road that was leading out to nowhere became ominous and we quickly stopped to ask for directions. With wrinkles in his face and kindness in his eyes, the gas station attendant smiled as we approached with our tattered car, hoping to find our way. "Sir," I said, "we are lost …"
Before I could finish the sentence, the man interjected, "No son, you aren't lost. You just took a few wrong turns. Where were you headed?"
This man could have been nasty, abrupt or just crusty when we asked him for directions. He could have judged us by our southern Californian garb or our "Hollywood" look, but instead chose to cheer us up and send us on our way. In his brief interaction with us, he left a mark of joy and cheer that will stay in my memory forever.
Jesus so often did the same thing to those He came into contact with. When His disciples freaked out on the water, He told them to take courage. When Jairus' daughter had died, He told him to not be afraid—just believe, and she will be healed. He told the paralyzed man his sins were forgiven. And the woman with the bleeding problem: He told her to be happy, for her faith had made her well.
Cheerfulness is something that is missing from many of our lives today. In everything we do, we are consumed with stress and worry, because we are unable to see beyond our everyday worries. Instead of worries, a cheerful person has an unselfish attitude towards others, and cares about them. Cheerfulness is something very small that can make a huge difference in their lives, a quality that makes us shine. We have the greatest gift of all, eternal life, and that means we have no excuse but to encourage and give "cheer" to others.
All Christians are leaders in some regard or another, for we are all called to be examples and agents of change. We are called to affect people for the Kingdom of God, love others unconditionally and make differences for the good. Like my friend at the gas station, a small set of words, delivered with a warm smile and a kind heart, can make a permanent mark on the lives of others.
Dig Deeper:
Today's Prayer:
Dear God, thank you for the way that you transform lives. You give peace and encouragement every step of the way. Thank you for making us all better and holier people. 
---
RELEVANT's "Deeper Walk" daily devotionals are presented by the LUMO Project, a visual translation of the four Gospels developed to engage people with scripture in a new way. You can watch the videos—which redefine the standard of visual biblical media—on YouTube, and find out more about LUMO's mission at their website.