Steve Rogers and Sam Wilson Will Both Be Captain America in Marvel Comics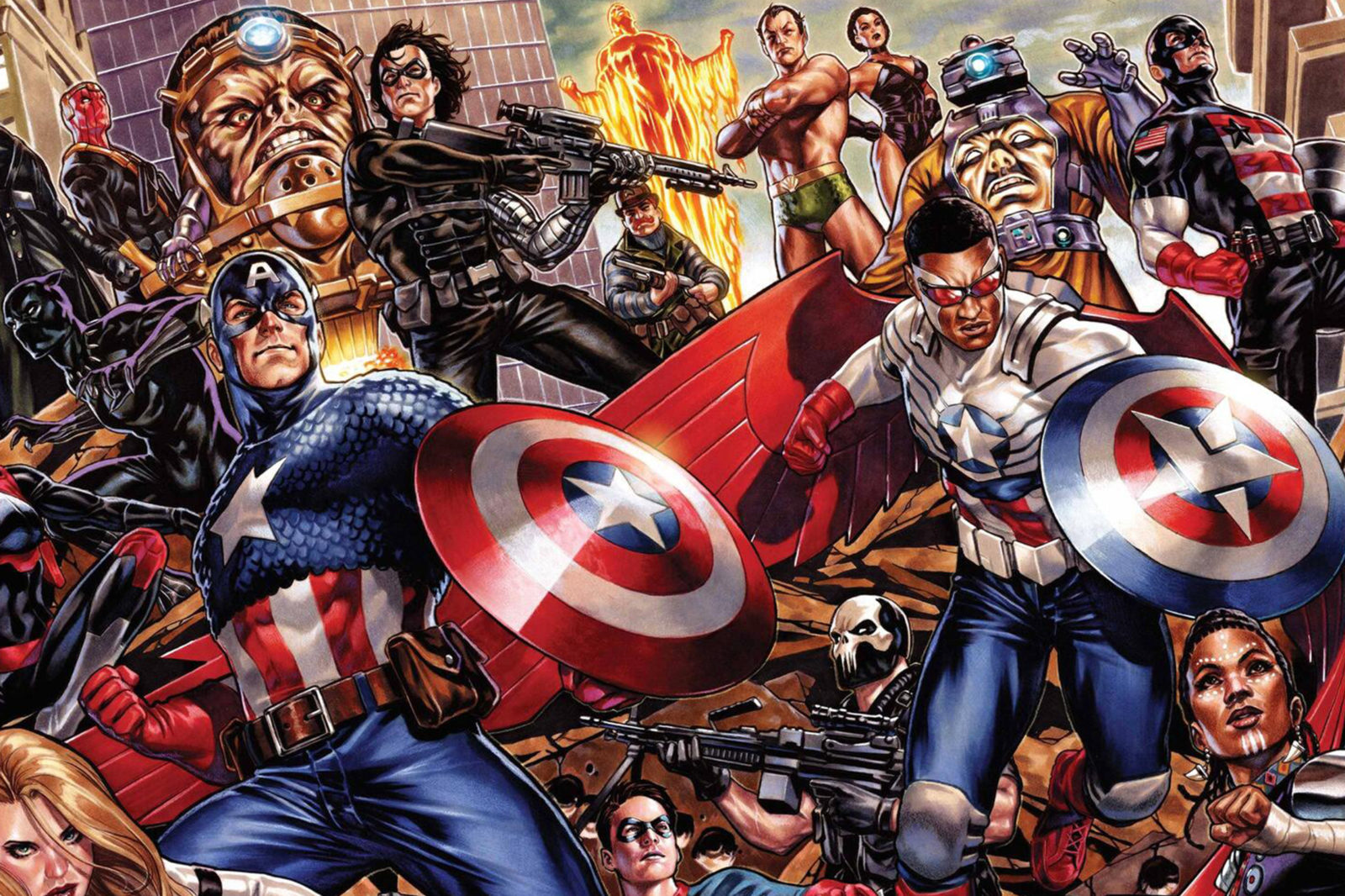 It's been a long time coming, but now it's official. The name "Captain America" will now be shared by two different Marvel Comics characters. Steve Rogers, who has been Captain America since the character's introduction in 1941, will continue to carry the shield in Captain America: Sentinel of Liberty. And Sam Wilson, who has been Roger's high-flying sidekick the Falcon in both the comics and the Marvel Cinematic Universe, will also take on the name in his own comic series and his own upcoming film franchise, starring Anthony Mackie. He'll even get his own shield.
It's not the first legacy name that's pulling double duty in Marvel Comics, where superhero titles are often treated like mantles to be passed along. There have been (at least) two Spider-Men swinging around New York City simultaneously for several years now, with both Peter Parker and Miles Morales handling web-slinging duties. And "Wolverine" is being used by both gruff old Logan and his clone/daughter Laura (comics!) in the X-Men franchise. And tracing the legacy of the various Captain Marvels throughout the ages is a headache for even the most studious superhero nerd. DC Comics is also juggling two different Batmen (both Bruce Wayne and a future version who is the son of a Wayne Corps employee named Lucius Fox), two Supermen (both Clark Kent and his son, Jonathan) and Wonder Women (both Princess Diana and a Brazilian Amazon named Yara Flor).
But Captain America comes with extra weight, saddled as he is with the American flag and its associated dream. That dream can look very different depending on whether you look like Steve Rogers or Sam Wilson, and Marvel tried to navigate that complex social commentary in Disney Plus' Falcon and the Winter Soldier series. That show saw Wilson taking up the mantle of Captain America while also wrestling with the nation's legacy of racial injustice. No mean feat, and reviews were mixed on how nimbly the issue was handled. But maybe such legacies can be handled better in superheroes' native environment: comic books.
Steve Rogers' adventures will appear in Captain America: Sentinel of Liberty, written by Jackson Lanzing and Collin Kelly, and drawn Carmen Carnero, Tochi Onyebuchi and artist R.B. Silva will handle Sam Wilson. On the movie side of things, Captain America 4 is currently in development with Mackie in the lead role.