Check Out NPR's Very Clever Prank on the Internet
Why Doesn't America Read Anymore? screeched NPR's article headline, which was promptly shot onto Facebook and Twitter with the sort of apocalyptic hype so many web articles are these days. It was a little surprising, because NPR has typically kept above the fray—at their best, they have some of the most level-headed and balanced reporting out there. Which is maybe why they were able to get away with this prank, for a prank it was. If you actually clicked on the article, all it said was the following:
Congratulations, genuine readers, and happy April Fools' Day! We sometimes get the sense that some people are commenting on NPR stories that they haven't actually read. If you are reading this, please like this post and do not comment on it. Then let's see what people have to say about this "story."
The "article" did prove their point however, as reader after reader left comments bemoaning the state of America, defending their own reading habits or criticizing NPR's analysis (an analysis, of course, that NPR hadn't actually given.) "My brain's good and I encourage others to read," protested one commenter. "I read everyday, sometimes many times," said another.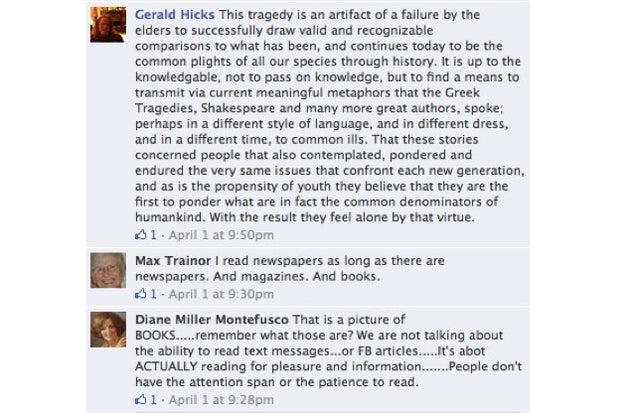 Some people gave a genuinely insightful take on what they perceived as being the problem at hand, although they were responding to an issue NPR wasn't actually addressing. Regardless, looks like a few people could have done with being a little more careful with the Internet's "mob mentality" …