A new gravy-themed roller coaster ride is opening up at Holiday World & Splashin' Safari in Santa Claus, Indiana.
No, that isn't a holiday-themed mad lib. It's real.
Santa Claus, Indiana — yes, an actual place — is home to Holiday World, a theme park dedicated to, you guessed it, holidays. There's a section for most major holidays: Christmas, Thanksgiving, Halloween, even the Fourth of July. Inside each section are themed rides, like the Liberty Launcher and Scarecrow Scrambler.
And next year, the Thanksgiving section will add Good Gravy!, a roller coaster where passengers "race against time to help Grandma make her famous gravy and save Thanksgiving dinner."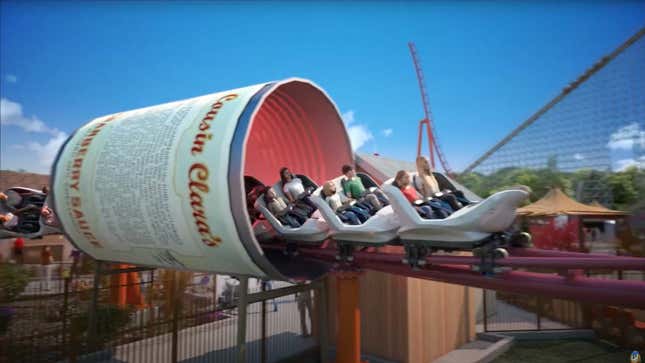 According to the park, Good Gravy! passengers will travel in a "gravy boat-shaped train" while weaving through a cranberry can, a massive whisk, a rolling pin and "other surprises."
We have to assume that a group of gravy aficionados fronted the $10 million bill for the ride, unless Holiday World was hoping to win the grand prize for "World's Most Absurd Roller Coaster Ride."
The ride will be open to the public in May 2024, so if you want to head to Santa Claus and check it out, go for it. Whatever floats your (gravy) boat.